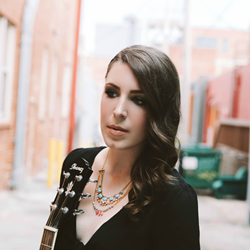 It's finding and creating meaning in this wonderful crazy world. It's painting pictures, telling stories and embracing memories.
Kansas City, Missouri (PRWEB) October 26, 2015
Kansas City singer/songwriter Merritt Whitley will host a release party to celebrate her most recent album "Wait for Me."
The party will be 2 – 5 p.m., Sunday, November 1, in the Life Center at Mosaic Life Care at Shoal Creek. It is free and open to the public. Whitley invites her fans and fellow music lovers to attend.
Born and raised in Kansas City, Mo., singing and songwriting have been an influential part of Whitley's life since the very beginning. Her songs are reflections of her life, and stem from her creative mind and personal experiences.
"To me, music is the ultimate form of expression," Whitley said. "It's finding and creating meaning in this wonderful crazy world. It's painting pictures, telling stories and embracing memories. I love music because it's communication in the most vivid, honest and beautiful way."
After having to put her music career on hold while attending college on a tennis scholarship, she is excited to now put her music first.
Whitley recorded her first album, "Secret" in Nashville and performed at several venues during CMA Fest in 2010. Since then, Merritt has opened for national country artist Dan + Shay and has performed at other large venues including PBR, The Granada, The World Forestry Center, Kauffman Stadium and many more.
For her second album, Whitley is working with producer/engineer, Larry Gann, who has worked with some of the top artists in the industry including Jon Rich, The Backstreet Boys, Elton John and Tate Stevens.
"Releasing this second album is something I have waited a very long time for," Whitley said. "I have made a lot of sacrifices, and put my music on hold for a while. Therefore, I have almost no words to describe how truly thankful, and excited I am to pour my heart and soul back out into the world."
Whitley believes the Life Center is the perfect location to celebrate her album's release. "I like that it has a simple elegance to it. I also am happy that I will be able to have a lot of people attend, yet, it still provides an intimate atmosphere or feeling of closeness with my fans and supporters. Interacting with them and having that feeling of closeness is a must for me. I felt that Mosaic Life Care gave me everything I was looking for, and more."
Merritt's newest single, "Goodbye" is available on iTunes. For more information on Merritt's background, upcoming events and to hear her music, visit merrittwhitley.com. To register for the event, visit https://www.mymosaiclifecare.org/merrittwhitley.