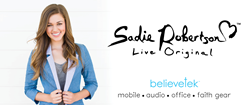 (PRWEB) October 24, 2015
The holiday season is the most cheerful time of the year, but it can also be the most stressful. That's why it's important to surround yourself with messages of faith and positivity.
Teen star Sadie Robertson of A&E's Duck Dynasty and ABC's Dancing with the Stars spends a lot of time spreading that same message as she celebrates her faith and encourages others, young and old, to "Live Original". That's why she teamed up with BELIEVETEK to spread messages of positivity, faith and inspiration through cool patented technology accessories. The new line of faith-based gear will lift anyone's spirits this holiday season, making it the perfect gift for all of your loved ones! Choose from Sadie's four fun themes: Dream Big, Smile Y'all, Love Life or Duckies.
Each theme features:
Phone cases $19.99
Photo Frames $19.99
Wireless USB Mouse $29.99
Wireless USB Keyboard $49.99
DJ Style Headphones $49.99
Bluetooth Speaker $59.99
2200ah Power Bank $29.99
Wherever you go, whoever you are and whatever you do, BELIEVETEK'S "Live Original" products by Sadie Robertson will continue to inspire you. Spread messages of hope and faith by purchasing any of these holiday-ready gifts at Walmart.com, Amazon.com, Christianbook.com, Beyourownyou.com and others. For more information, please contact jennifer(at)chicexecs(dot)com.