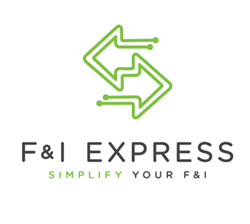 "We want to make the F&I process as simple and compliant as possible. F&I Express will enable us to deliver that expectation for every customer."
Dallas, Texas (PRWEB) October 22, 2015
F&I Express® announced today that it will provide its auto dealer clients with access to The Penn Warranty Corporation products through F&I Express' eContracting platform The Penn Warranty Corporation, provider of service contracts to used car dealers across the United States, joins the largest network of aftermarket F&I product providers in history.
Through this new relationship, dealers using the F&I Express eContracting platform will have the ability to sell Penn Warranty service plans, which offer a wide range of coverage options. All of the forms necessary to complete the sale of a Penn Warranty service contract will be built into the F&I Express eContracting platform solution. Additionally, F&I Express will remit warranty premiums for vehicles financed through its portal directly to Penn Warranty.
"Penn Warranty's integration with F&I Express will save time and money in the F&I department through eContracting with a single sign-on process," said Brian Reed, President and CEO of F&I Express. "By integrating Penn Warranty products with the F&I Express eContracting platform, we offer our dealers another convenient way to serve their customers, while providing another layer of protection for lenders, which is critical in the current marketplace."
"All of us at Penn Warranty are enthusiastic for the opportunity to partner with F&I Express," said Jude Tuma, President and CEO with The Penn Warranty Corp. "Our goal is to exceed expectations for our more than 6,000 dealers. We want to make the F&I process as simple and compliant as possible. F&I Express will enable us to deliver that expectation for every customer."
Currently, F&I Express is working with many auto retailers across the US to improve F&I processes with their digital solutions. The company has aggregated a network of nearly 100 automotive aftermarket insurance providers in an online portal accessible by its dealers.
About F&I Express
Since 2008, F&I Express has been dedicated to bringing aftermarket sales into the digital age with innovative technology that cuts costs and increases efficiency and customer satisfaction. Established by international company Intersection Technologies Inc., F&I Express has become the online connection for all things F&I.
With the largest aftermarket provider network in the industry, F&I Express delivers specialized solutions that streamline the aftermarket process for optimized efficiency. From presenting product pricing and features online to providing error-free eContracting to improving aftermarket product cancellation performance and compliance, F&I Express makes aftermarket F&I easier and more profitable for everyone involved.
Visit https://www.fandiexpress.com/ for more information on all F&I Express solutions, or call 855-364-3977. Also, follow posts on Twitter @fandiexpress.
About Penn Warranty Corp.
For more than two decades, Penn Warranty has been the trusted provider of vehicle service contracts to car buying customers of independent dealerships. As a leading innovator in the service contract industry, Penn Warranty has created several successful programs that address the unique needs of independent dealers and their customers. These programs enable independent dealers to maximize their profits without sacrificing value and coverage for their customers.
As one of the oldest auto service contract companies in the United States, Penn Warranty has served as the trusted and reliable partner to more than 15,000 independent dealers. For more information about Penn Warranty, or to become a Penn Warranty dealer, please visit https://www.pennwarrantycorp.com/ or call 800-356-9441.