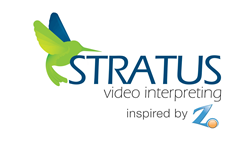 On-demand interpretation services offer a convenient and affordable solution, especially in locations where interpreter availability is lacking or interpretation needs are more sporadic.
Clearwater, FL (PRWEB) October 26, 2015
Secretary of State John Kerry recently announced the government will increase its cap on the total number of refugees admitted to the United States, raising it to 85,000 in 2016 and 100,000 in 2017 (1), with at least 10,000 displaced Syrians to be taken in over next year and resettled in one of 180 designated host cities nationwide (2). Stratus Video Interpreting—a leading provider of on-demand interpretation services—identifies the states and metropolitan areas where Syrian refugees are likely to be resettled, and advises healthcare providers in those locations to prepare for a rise in limited English proficient (LEP) patients requiring Arabic interpretation services.
Millions of Syrians have fled from Bashar al-Assad's regime and Islamic State forces, leading to what has been dubbed "the world's largest humanitarian crisis since World War II" (3). Since 2011, more than 7.6 million Syrians have been internally displaced and nearly 4.1 million have left the country and registered as refugees (3). Nearly 430,000 refugees have applied for asylum in Europe, and the United Nations High Commissioner for Refugees (UNHCR) has already referred 18,000 for resettlement in the United States (2)—with priority given to "vulnerable" individuals such as widowed women, unaccompanied children and those with life-threatening medical conditions (4).
During fiscal year 2015, which ended on September 30, a total of 1,682 Syrians were admitted the United States (5). Nearly three-quarters of them were resettled among ten states: 184 in Texas; 179 in California; 179 in Michigan; 134 in Illinois; 125 in Arizona; 111 in Pennsylvania; 98 in Florida; 73 in New Jersey; 70 in Massachusetts; and 61 in Kentucky (5). Many of these states are already home to large Syrian-born populations; as of 2013, the top 10 metropolitan areas for Syrian natives were Los Angeles; New York; Chicago; Riverside, Calif.; Detroit; Phoenix; Allentown, Pa.; Boston; Miami; and Atlanta (2).
"When Syrian refugees begin arriving in larger numbers next year, they're likely to be resettled in areas with established Syrian communities," noted David Fetterolf, President of Stratus Video Interpreting. "Many of these new arrivals—including children, torture victims and those with serious health conditions—will need immediate medical care, and government regulations require that patients with limited English proficiency have access to qualified healthcare interpretation services. By examining current resettlement and residency patterns, we can predict areas that will likely experience an increased demand for medical interpreters."
Fetterolf says healthcare providers in the above-mentioned cities and states would be wise to prepare for an influx of Syrian LEP patients, but points out there are also resettlement centers in less-populated places like Boise, Idaho and Huron, South Dakota. "All healthcare facilities should be ready to provide refugee patients with an interpreter that speaks their language and dialect," advised Fetterolf. "On-demand interpretation services offer a convenient and affordable solution, especially in locations where interpreter availability is lacking or interpretation needs are more sporadic."
Stratus provides certified healthcare interpretation services in nearly 200 languages, including Syrian dialects of Arabic and Kurdish. In addition to its over-the-phone interpretation services, Stratus offers video remote interpreting (VRI) in more than a dozen commonly spoken languages, with extended hours for Arabic VRI.
For more information on Stratus and its video remote interpreting services for limited English proficient patients, visit http://www.stratusvideo.com.
About Stratus Video Interpreting:
Stratus Video Interpreting provides on-demand interpreter services by using technology to connect clients with interpreters in over 175 spoken and signed languages in less than 30 seconds. Stratus' cloud-based video solution delivers an array of unique features to virtually any Internet-enabled PC, Mac, smartphone or tablet. Stratus clients use the technology to connect with their own staff interpreters, as well as with Stratus interpreters, who have years of healthcare and courtroom experience and hold multiple certifications. With Stratus, state-of-the-art video remote interpreting is made available with virtually no capital investment. Stratus averages 65,000 video calls a day, up from 40,000 in mid-2013. Stratus Video is the sister company of The Z® (CSDVRS, LLC, dba ZVRS), which was established in 2006 and developed by and for deaf and hard-of-hearing individuals, setting the industry standard as the nation's premier Video Relay Service Provider and the first VRS Provider to receive a 5-year certification from the FCC. In 2014, Stratus was recognized as one of the fastest-growing privately held companies, ranking #3,827 on Inc. magazine's Inc. 5000 list. For more information, visit http://www.stratusvideo.com.
1. Morello, Carol. "15,000 More Refugees to Be Resettled in U.S. Next Year"; The Washington Post; September 10, 2015. washingtonpost.com/world/15000-more-refugees-to-be-resettled-in-us-next-year/2015/09/20/02565b4e-5e54-11e5-8475-781cc9851652_story.html
2. Weise, Karen; Justin Sink; and Dave Merrill. "How Will the U.S. Absorb Thousands of Syrian Refugees?"; Bloomberg Politics; September 2015. bloomberg.com/politics/graphics/2015-syria-refugees/
3. European Commission Humanitarian Aid and Civil Protection (ECHO). ECHO Factsheet: Syria Crisis; September 2015. ec.europa.eu/echo/files/aid/countries/factsheets/syria_en.pdf
4. Sink, Justin and Dave Merrill. "Getting 10,000 Syrian Refugees Into the U.S. Won't Be Easy"; Bloomberg Politics; September 18, 2015. bloomberg.com/politics/articles/2015-09-18/getting-10-000-syrian-refugees-into-the-u-s-won-t-be-easy
5. U.S. Department of State, Refugee Processing Center. Refugee Admissions Report; September 30, 2015. Arrivals by State and Nationality; October 6, 2015. wrapsnet.org/Reports/AdmissionsArrivals/tabid/211/Default.aspx