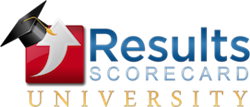 Rockville, MD (PRWEB) October 26, 2015
Results Leadership Group and Results Scorecard are excited to unveil the Results Scorecard University: Certified Administrator Training Course (RSU: CAT).
Results Scorecard is a unique decision-making support software based on the Results-Based Accountability™ framework that organizations are using around the world to improve the wellbeing of children, adults, families, and communities as a whole. It supports strategic decision-making by providing rapid access to critical data, creating informational scorecards that can be embedded live on any website, and enabling users to manage projects with interactive strategy maps and Gantt charts.
RSU: CAT is an interactive training course developed to provide scorecard users with intimate knowledge of software features, capabilities, and uses, as well as help them develop an enhanced, practical skill-set. Certified Administrators will be able to use this knowledge and skill-set to help their organizations optimize their scorecards and get the most they can out of their software license.
This course includes: over 5 hours of thorough training videos, hands-on exercises to facilitate skill-building, learning reinforcement quizzes, and personal live support. To become a Certified Administrator, RSU: CAT students will complete a 45 minute multiple choice exam and a Scorecard building assessment based on mock documents provided in the course.
To learn more about Results Scorecard University's Certified Administrator Training course, pricing, and to watch the introductory course model, please visit http://resultsscorecard.com/results-scorecard-university/