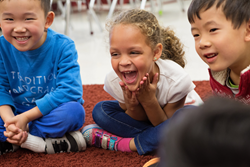 This is an incredibly exciting time to be part of Stratford School
Milpitas, California (PRWEB) October 22, 2015
Silicon Valley-based educational leader Stratford School announces it will open a new campus in Milpitas, California, in order to continue expansion to better serve its families. With continued demand in the Bay Area, the Milpitas campus becomes the 19th regional location for Stratford School.
Conveniently located near transit hubs, freeway access, and retail and residential centers, the new Milpitas Great Mall Parkway campus will offer a full program lineup from preschool through eighth grade. Renovations on the current property will begin in February 2016. Stratford invites the public to attend an Open House on Saturday, November 7, from 10:00 a.m. to 2:00 p.m. In keeping with the Stratford School tradition, the new campus will be opened with an experienced team of leadership, teachers, and staff. Applications for admissions are currently being accepted for the 2016-17 school year.
Stratford School's formula for success in the Bay Area lies within its unique combination of high academic standards, culture of caring, and passionate faculty who foster curiosity and achievement in each student. Stratford provides an unparalleled STEAM education, where children are inspired to be creative problem-solvers, innovators, and leaders.
"This is an incredibly exciting time to be part of Stratford School," says Stratford's founder, Sherry Adams. "We thank everyone for their continued support of the school's growth across campuses, and throughout California. There aren't many schools doing what we do, the way we do it."
Stratford currently has 18 preschool, elementary, and middle school campuses in Northern California, and is expanding to Southern California in August of 2016.
About Stratford School
Established in 1999, Stratford School is a leading independent private school founded on the belief that education is a significant influence in the life of a child. Stratford offers an accelerated curriculum from preschool through eighth grade with an emphasis in the areas of STEAM (Science, Technology, Engineering, Arts, and Mathematics) that incorporates music, physical education, foreign language, and social skills development. Stratford's goal is to prepare and mentor students for admission to competitive high schools and colleges. All students are provided the necessary tools to excel, and are encouraged to participate actively in leadership, community service, and extracurricular activities. Visit http://www.stratfordschools.com for more information.
###