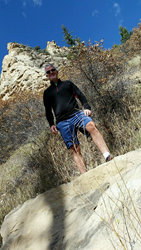 Patrick's obsession has always been traveling, with a taste of the outdoors and adventure thrown in for good measure.
Fort Lauderdale, FL (PRWEB) October 26, 2015
@TravelDeals just launched Paddy's Picks. These deeply discounted deals are hand picked by Patrick O'Hara, the CEO of @TravelDeals. The selections tend to favor beautiful, outdoor oriented locations along with sporty activities such as skiing, kayaking, tennis, golf and more. O'Hara came up with the idea of Paddy's Picks, in order to have some fun with his passion for the outdoors and to share the deals with other active and adventurous travelers.
Patrick has a busy work schedule that includes frequent trips to visit other travel companies and attend industry conference and seminars. When he's not on the road, Patrick sits in his home office with his two dogs who assist him in running the company. While petting the dogs, he tells me about bringing @Traveldeals to life in 2012. After nearly 10 years in the travel industry he finally mustered the courage to jump and create a small start-up of his own. In three short years, @Traveldeals has become one of the leading sources of third party travel deals. Patrick's thought process in its development was simple – to build a robust social media community and outlet of distribution for third party travel deals. In summary, to make it easy to find great offers that are vetted by his team of researchers.
Patrick's obsession has always been traveling, with a taste of the outdoors and adventure thrown in for good measure. He speaks a mile a minute and his excitement is contagious when I ask him about the greatest place he's ever been. He starts to say it's an African Safari but then quickly switches to kayaking in the Caribbean, then can't decide if maybe it's skiing in Colorado or an upcoming heli-ski trip he has planned in March. So it's not a big surprise when he informs me that he's going to focus on this sort of travel experience when it comes to the newly launched Paddy's Picks. He wants others to experience these type of life changing trips for as little money as possible.
Check out Paddy's Picks at @Traveldeals today, chances are you will find something you would love to do!
About @TravelDeals
@Traveldeals showcases deals on cruises, flights, hotels, ski packages, island packages and everything in between. Today @Traveldeals utilizes a variety of tools to get the word out on these great deals; social media, e-newsletters and a mobile friendly website. Along with the website and newsletters, he has many twitter accounts to promote @Traveldeals on. Over the past years these morphed into everyday doings in each city instead of just travel. Today these Twitter handles add up to over 1.5 million followers, yes, that's 1.5 million.
@Traveldeals can be found at http://www.traveldealsandnews.com or on Facebook at http://www.facebook.com/AtTravelDeals. Follow us on Twitter http://www.twitter.com/traveldeals and the following: @travelbargains, @California, @Connecticut, @Delaware, @FL, @Georgia, @Maine, @Maryland, @Massachusetts, @NewHampshire, @NewJersey, @NewYorkState, @NorthCarolina, @Oregon, @Pennsylvania, @RhodeIsland, @SouthCarolina, @Virginia, @VermontGetaways, @Washington.