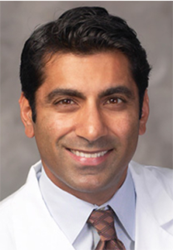 "It can be relatively easy to overload a backpack on a daily basis, which can lead to problems, especially if the weight is not supported or distributed evenly," said Dr. Khurana
Los Angeles, CA (PRWEB) October 24, 2015
While the primary cause of back pain, muscle strains, and injuries in children and teenagers is attributed to athletics and sports, as reported by KCRG, an estimated 68 percent of teenagers suffer from some form of back pain unrelated to sports or physical activity. Although young students are advised to carry backpacks that weigh 15% of their body weight or less in order to avoid potential muscle strains and back pain, Dr. Stuart has found that many students carry packs that are much heavier than the recommended maximum allocation for their weight.
"With most students carrying around several electronic devices like laptops and tablets, in addition to textbooks and other requirements for class and recreation, it can be relatively easy to overload a backpack on a daily basis, which can lead to problems, especially if the weight is not supported or distributed evenly," said Dr. Sanjay Khurana, board-certified orthopedic spine surgeon at Los Angeles Spine Group in Beverly Hills.
The good news for students is that there does not seem to be a correlation or link between carrying heavy backpacks and the development of scoliosis. In order to ensure that children are not overloading their backpacks and putting their posture and spine at risk for pain, Dr. Khurana recommends a few simple precautions:

Pay attention to the weight of the backpack. For example, a student (male or female) weighing 100 pounds should carry a bag no heavier than 15 pounds.
Make sure weight is evenly distributed by wearing both straps and adjusting the backpack to ensure it is balancing properly and in a position that feels comfortable on the lower back.
Take a break. Remove the backpack whenever possible, such as while waiting for a bus or talking to friends during breaks between classes. Carry only the essentials and store the rest in lockers.
"Carrying books and computers may be unavoidable for school aged children and young adults, but following a few sensible safety precautions, and maintaining an overall healthy weight and active lifestyle can help prevent back pain and problems with the spine down the road," added Dr. Khurana.
Dr. Sanjay Khurana is a board-certified and fellowship-trained pediatric and adult orthopedic spine surgeon in Los Angeles. He specializes in minimally invasive and robotic spine surgery procedures with an emphasis on degenerative disc disease, herniated disc, spinal stenosis, scoliosis and spinal deformity, spinal instability, spine trauma, spine tumors and spondylolisthesis. Dr. Khurana completed his undergraduate degree at the University of California at Berkeley and his medical school and orthopedic surgery residency at The Stanford University School of Medicine. Dr. Khurana completed his combined orthopedic and neurosurgical training at the prestigious University of Miami / Jackson Memorial spine fellowship under the mentorship of Dr. Frank Eismont and Dr. Barth Green.
To learn more about Dr. Sanjay Khurana, please call 310.321.4333 or visit http://www.laspinegroup.com.