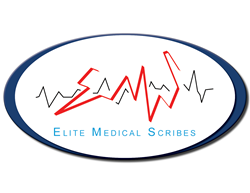 The Elite Academy is the solution to better trained scribes, minimal clinical workflow disruptions, and faster implementations of scribe programs
Minneapolis, MN (PRWEB) October 23, 2015
Elite Medical Scribes, LLC, the nation's highest quality medical scribe provider announced today the launch of the most sophisticated scribe training program in the industry, The Elite Academy.
The Elite Academy is a comprehensive suite of online medical scribe training courses, tailored for each specific medical specialty. The courses cover all elements of becoming a scribe, including human anatomy, human physiology, medical terminology, large library of patient scenarios, specialty clinical workflows, electronic medical record systems, chart documentation, medical coding/billing, and compliance policies. Courses are led by Medical Scribe Training Managers, where scribe trainees receive customized one-on-one training, with feedback that helps to build skill and mastery of the medical scribe profession.
What makes The Elite Academy unique is its online note creation software EliteSoft™. This proprietary software enables trainees to receive real-time feedback on their charting notes to ensure progress, comprehension, and mastery of skills. The interactive, virtual classroom technology ensures more qualified and effectively trained scribes, minimizes onsite training time, and results in the highest quality onsite implementation. Scribe trainee graduates of The Elite Academy program have seen a 44% decrease in onsite clinical training time.
The Elite Academy training benchmarks exceed any other industry standard in terms of number of hours trained, interactive virtual classroom hours, and specialty specific patient scenarios. The Elite Academy offers the highest quality medical scribe training program in the industry.
Adam Okeson, Elite Medical Scribes Director of Clinical Product Development, said, "The Elite Academy is a direct result of feedback from our client partners and our scribes. At Elite our goal is to achieve excellence in everything we do. We are a leader-leader driven company that takes our customer and employee feedback to heart, and acts on it."
"Our physician clients are very busy and desire to have a seamless implementation when integrating scribes into their daily schedules," said Yuriy Vasylenko, CEO, Elite Medical Scribes. "The Elite Academy is the solution to better trained scribes, minimal clinical workflow disruptions, and faster implementations of scribe programs."
About Elite Medical Scribes
Elite Medical Scribes is the nation's preeminent provider of the highest quality medical scribe services. Our programs lead to increased clinician productivity, enhanced patient care quality, accurate real-time data entry, reduced documentation time, and increased clinician and patient satisfaction. The Elite Difference is found through providing client focused solutions, proven value, and a trusted partnership. With nationwide coverage and a focus on all medical specialties, Elite Medical Scribes is the premier scribe management program for hospitals, independent clinics and large healthcare systems.
Elite Medical Scribes, LLC. All rights reserved.
Website: http://www.elitemedicalscribes.com
###