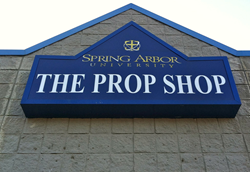 (PRWEB) October 23, 2015
Spring Arbor University Drama presents a show written and directed by Professor of Communication, Paul Patton. "Gerstein" will be held in SAU's box theater, the Prop Shop, Nov. 5-7 and 12-14 at 8 p.m.
"This story is one of the most bizarre stories of the 20th century," Patton said.
"Gerstein" is the true story of a youth minister, eccentric mining engineer and member of the SS, whose diaries ended up being primary sources at the Nuremberg Trials after WWII. "Kurt Gerstein arguably is one of the most mysterious and controversial figures from our tradition as evangelicals," Patton said. "The interpretation of his journals and biography is still affecting history to this day."
Patton won the 2007 Christians in the Theater Arts national playwriting contest for "Gerstein", which guaranteed its production at one or more CITA institutions. It premiered at Belhaven College in 2007.
Tickets for Spring Arbor University students and staff are $5 and the general admission is $10. Tickets are available at the door, but given the intimate size of the theater, reserving tickets at 517-750-6500 is strongly advised.