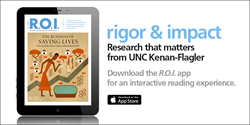 Chapel Hill, N.C. (PRWEB) October 26, 2015
UNC Kenan-Flagler Business School has published the latest edition of its research magazine, R.O.I.
The issue features best practices and business insights about leadership, marketing, retailing, financial issues and supply chains.
R.O.I. is published as an iPad app with exclusive videos and interactive features. A free download is available in the Apple App Store. It also can be read on desktop.
"Our faculty members are known for producing research that is rigorous and makes an impact on the practice of business," said Jennifer Conrad, senior associate dean for academic affairs and the Dalton McMichael Distinguished Professor of Finance at UNC Kenan-Flagler. "R.O.I. showcases specific studies and provides information about the professors and their wider body of work."
The new R.O.I. issue includes articles that show how:

Firms can balance philanthropy and profit based on a pricing study of Procter & Gamble's PUR water purification packets in Malawi
Long shifts without breaks are bad for workplace safety as demonstrated by a study of handwashing in hospitals
The real costs of self-service in retailing
Marketers need to map their strategies to distinct national cultures
Identifying personal goals can strengthen team performance
Flexibility in the supply chain is more effective than dropping prices
A pay increase can also raise the bottom line
There's still no fool-proof way to avoid financial crisis
Family businesses require a shared vision for the future
UNC Kenan-Flagler also publishes The Leadership App, which showcases the unique and comprehensive Leadership Development Program; The MBA App, designed for prospective MBA students; and UNC Business, the School magazine.
#
About the University of North Carolina Kenan-Flagler Business School
Consistently ranked one of the world's best business schools, UNC Kenan-Flagler is known for its collaborative culture that stems from its core values: excellence, leadership, integrity, community and teamwork. Professors excel at both teaching and research, and demonstrate unparalleled dedication to students. Graduates are effective, principled leaders who have the technical and managerial skills to deliver results in the global business environment. UNC Kenan-Flagler offers a rich portfolio of programs and extraordinary, real-life learning experiences: Undergraduate Business, full-time MBA, Executive MBA Programs (Evening, Weekend and global OneMBA®), online MBA@UNC, UNC-Tsinghua Dual-Degree EMBA, Master of Accounting, PhD, Executive Development, and UNC Business Essentials programs. It is home to the Frank Hawkins Kenan Institute of Private Enterprise.