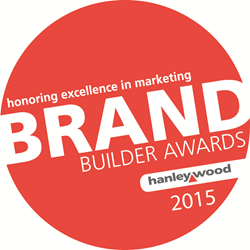 "We are thrilled to recognize Marvin Windows and Doors for their efforts over the past year in redefining their brand," said Peter Goldstone, CEO of Hanley Wood
Washington, D.C. (PRWEB) October 26, 2015
Hanley Wood, the premier company serving the information and marketing needs of the construction industry has announced that Marvin Windows and Doors has been selected as the 2015 Brand Builder Awards Marketer of the Year. The award was presented at the 2015 Brand Builder Awards Luncheon, held Thursday, October 22nd in Chicago as part of Hanley Wood's 2015 Foundations Conference.
"We are thrilled to recognize Marvin Windows and Doors for their efforts over the past year in redefining their brand," said Peter Goldstone, CEO of Hanley Wood. "With four generations of innovation and experience Marvin's reinvigoration of its brand and its approach to marketing transformed the way it relates to its customers and trade professionals. The cohesiveness of their campaigns, the platforms used and the results of this transformation is what drove our jury of marketing experts to select Marvin Window and Doors as the Marketer of the Year."
The Marketer of the Year Award is presented annually by Hanley Wood to a company in the residential and commercial construction and design industry that best demonstrations a commitment to innovation, excellence in leveraging marketing programs to drive sales, and adoption of modern marketing tactics.
"We are extremely proud of the Marvin story and brand values, so our goal was to create a best-in-class marketing program that would elevate our brand at every customer touch point," said Brett Boyum, Vice President of Marketing, Marvin Windows and Doors. "Focusing on the creative platform of 'transformation' our goal was to improve our target audience's experience with the brand, increase awareness, drive engagement and ultimately sales, which we were able to accomplish with our efforts over the past year. I am extremely proud of our team and the work that they have done, and it is very rewarding to have all of our hard work validated with this award."
About Marvin Windows and Doors
Marvin Windows and Doors brings its Built Around You® philosophy to life with every customer and every solution. A premier manufacturer of made-to-order wood and clad wood windows and doors, Marvin offers the industry's most extensive selection of shapes, styles, sizes and options to fit the diverse needs of builders and match the personalities of homeowners. Marvin's tradition of delivering the finest craftsmanship in windows and doors began in Warroad, Minn., a small town just six miles from the Canadian border, where the privately-held, family-owned and operated company is still headquartered today.
For more information, visit http://www.Marvin.com
About the Brand Builder Awards
The Brand Builder Awards recognize the most innovative and effective marketing campaigns throughout the residential and commercial design and construction industries. Companies selected for recognition have executed campaigns that generate sales, motivate buying behavior and inspire customer loyalty. More than 80 companies submitted entries in 10 categories, ranging from traditional advertising campaigns to social and mobile marketing strategies to channel marketing programs.
About Hanley Wood
Hanley Wood is the premier company serving the information, media, and marketing needs of the residential, commercial design and construction industry. Utilizing the largest analytics-and editorially-driven Construction Industry Database, the company provides business intelligence and data driven services. The company produces award-winning media, both digital and print, high –profile executive events, and strategic marketing solutions. To learn more, visit http://www.hanleywood.com.