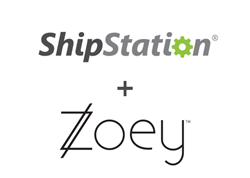 We are very excited about the ShipStation and Zoey integration and believe together we will enhance our clients' experiences and help them to scale their businesses.
Austin, TX (PRWEB) October 27, 2015
ShipStation, the leading web-based e-commerce shipping solution, today announced its integration with Zoey, an e-commerce SaaS built for merchants seeking a sophisticated, but easy-to-use solution. Built from Magento, Zoey has industry leading features making it a great solution for the types of businesses that leverage ShipStation.
Zoey's integration with ShipStation allows its sellers to use ShipStation's money and time-saving fulfillment and shipping features, including:
· Discounts on shipping rates
· Free Stamps.com account
· Batch processing of shipping labels
· Branded or customized packing slips and labels
· Return label and RMA system functionality
· Streamline international shipping
· Daily and advanced reporting
· And much more!
"Zoey was created to solve the problems that most e-commerce store owners face when developing their sites. For this reason, we only partner with the most esteemed apps that deliver a best-in-class experience to their customers. We are very excited about the ShipStation and Zoey integration and believe together we will enhance our clients' experiences and help them to scale their businesses. We're looking forward to taking Zoey to the next level with ShipStation," says Uri Foox, Founder of Zoey.
In addition to the features stated above, ShipStation helps users save time by automating manual tasks. ShipStation's automation features include the import of orders from dozens of top e-commerce sales channels, automatic transmission of shipment information back to the e-commerce sales channel and the shopper, along with the ability to set up custom rules to take the guesswork out of online order fulfillment.
ShipStation's Vice President of Marketing Robert Gilbreath notes, "Like ShipStation, Zoey offers a powerful solution for etailers while maintaining a similar commitment to crafting an intuitive solution. We look forward to helping Zoey merchants with order fulfillment and to offering ShipStation merchants another shopping cart option."
About ShipStation
ShipStation is the leading web-based shipping solution that helps e-commerce retailers import, organize, process, package, and ship their orders quickly and easily from any web browser. ShipStation features the most integrations of any e-commerce web-based solution with approximately 75 shopping carts, marketplaces, package carriers, and fulfillment services. Integration partners include eBay, PayPal, Amazon, Etsy, Square, Shopify, Cratejoy, Bonanza, OpenSky, and Squarespace; along with carriers such as USPS, UPS, FedEx, and DHL. ShipStation has sophisticated automation features such as automated order importing, custom hierarchical rules, product profiles, and fulfillment solutions that enable its customers to complete their orders, wherever they sell, and however they ship. ShipStation is a wholly-owned subsidiary of Stamps.com (Nasdaq: STMP). For more information, visit http://www.shipstation.com.
About Zoey
Zoey is a sophisticated, yet easy to use e-commerce platform that gives you more control over the things that make your online store special. Built from Magento, Zoey is a highly powerful online store builder, yet it's affordable and easy to use. Plus it rethinks the standard way of doing things and makes advanced capabilities simple. Now anyone can leverage sophisticated design tools, robust product catalog capabilities, complex shipping rules and so much more!
Get to know Zoey by signing up for a free trial at http://www.ZoeyCommerce.com.