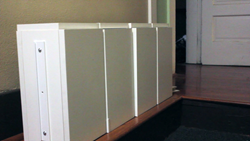 Demand for home organization products in the US is forecast to increase 3.5 percent per year to 9.3 billion through 2019 ," US Home Organization Products Market - Market Watch, May 23,2013
Cincinnati, OH (PRWEB) October 31, 2015
Senior Citizen entrepreneurs, Bob and Karen Bright, may be retired but are certainly not tired-out. This senior couple turned to social media channels to launch their crowdfunding campaign to help with the next phase of their senior-friendly invention project – the Step N Store Away Stairway Storage System. Because taking a new product to market is very expensive, Step-N-Stor, LLC. had to come into the newest frontier as they seek help to market their Patent-Pending product to the public through social media channels.
Step-N-Stor, LLC. proudly announces that Step N Store Away,recently accredited by the Cincinnati BBB and currently available on Amazon, is soon headed for a TV infomercial through an agreement made with the producer of the national TV show - In Style TV. The show airs on such national channels as ABC, NBC, CBS, Fox, ION, and WeTV.
The Brights started their company four years ago after inventing a product for Karen, originally designed to sit on the stairs. Well after four long years, lots of money and time later, their revolutionary, Patent-Pending system, dubbed Step N Store Away, is now ready for market. That has not been an easy task, and is a monumental undertaking. It takes lots of money to start a company and even more to market a product. Marketing, promotions, advertising, manufacturing product to sell, and hiring people to help implement each of the phases is very expensive.
Storage Organization has been trending more and more popular the last few years. According to the 2013 research report by ReportLinker.com, "The trends show a demand for home organization products is on the rise and will continue through 2019." That makes marketing their invention a promising goal to achieve. Consequently, Step-N-Stor, LLC. started a crowdfunding campaign with the Fundly.com website to help get over this funding hurdle.
To learn more about Step N Store Away, please visit: http://www.step-n-stor.com
For information on the crowdfunding, please visit the following https://fundly.com/step-n-store-away-stairway-storage-system
A portion of the proceeds from the campaign will benefit a few of their favorite charities: Cincinnati Children's Hospital, The Aliah Sweet Foundation, and St. Jude's.
For interview information contact:
Robert Bright
Step-N-Stor, LLC.
516-742-4545