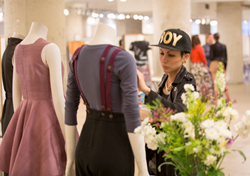 Moda 360 gives international designers, artists and filmmakers an innovative platform to present their work to industry professionals, press, galleries, buyers, media and the public.
Los Angeles, CA (PRWEB) October 24, 2015
Moda 360 is a fusion of art, fashion and film, incorporating exhibits and live presentations and encouraging collaborations between the three creative industries. The event presents fashion as art, and art as lifestyle, and gives international, independent designers, artists and filmmakers a platform to present their work to industry professionals, press, galleries, buyers, media and the public. The event debuted in New York in 2014 and in Los Angeles in 2015 to an enthusiastic response. The next edition in Los Angeles expands its schedule to include seminars on topics touching art, fashion, film, media and marketing. In addition to looped screenings of short fashion videos, Moda 360 will add screenings of short films to the lineup. Designers from the US, UK and Colombia are returning to the 2016 edition, bringing new collections and creative ideas to their exhibits and presentations.
Always pushing the envelope, Moda 360 is inviting media partners to create themed runway presentations of participating collections, styling a set and looks on the runway that express a fashion era or idea in an innovative way. Moda 360: LA will run concurrent with Majors Market Week, giving fashion designers exposure to buyers from major retailers and chain stores, and offer retailers an opportunity to discover international independent fashion designers.
"Our partnership with The New Mart gives us the ability to experiment with ideas for Moda 360 and consistently grow this event to give designers, artists and filmmakers maximum exposure and benefit. Moda 360, through our partnership with The New Mart, supports The Ben and Joyce Eisenberg Foundation, completing the mission of Moda 360 to support charitable causes," said Debora Pokallus, CEO, Bel Esprit LLC.
Moda 360 brings together the vibrant art, film and fashion communities in Los Angeles with international talent. Artists and designers across continents are collaborating for unique editorial exhibits and presentations, promising an exciting event. Applications are open for designers and artists interested in participating. MODA 360 welcomes the support of returning sponsor Bel Essence, a natural skin care company, and media partners, including Linger Magazine and Fashion Tap, a fashion social network.
About Bel Esprit - The Bel Esprit Showroom showcases international designers of ethical fashion, and the sister showroom, Showroom International, presents the collections of international independent designers. The showrooms offer 30 years of industry experience identifying and assisting the needs of both designers and retailers to facilitate a strong business relationship, and partner with international fashion industry organizations and events to give independent designers maximum exposure. Bel Esprit promotes ethical principles through education to designers, retailers and consumers, and, through a number of global initiatives, works to create and develop more ethical resources for the fashion industry.
About the New Mart - The New Mart Building, a registered Los Angeles historical landmark located in the center of Downtown LA's fashion district, is home to 100+ showrooms representing hundreds of top lines. With both high profile and cutting edge showrooms – The New Mart is the most sought after venue for wholesale fashion buyers from around the world. Learn more at http://www.newmart.net
About bel essence - Bel Essence is a natural skin care collection based on a simple idea: give skin the nutrition it needs to heal, regenerate and rejuvenate itself. Bel Essence combines natural and organic oils that are the richest sources of vitamins, antioxidants, omega 3's and fatty acids, the essential components for healthy, youthful skin. Bel Essence gives skin what nature intended and selects and combines oils with beneficial properties to maximize results without harmful chemicals and colorings. Natural oils, known for their skin health benefits, are combined to treat and nourish skin, giving both instant improvement and long term transformation. Learn more at http://www.belessence.com.