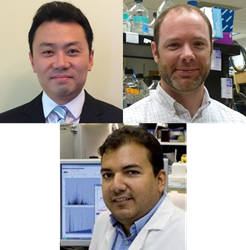 Yorba Linda, CA (PRWEB) October 23, 2015
Researchers have found that health and development—and children's, too—is impacted by exposure to environmental, dietary, behavioral, and medical conditions. Parents' prior experiences also impact their childrens' health and growth.
Further, when people grow up in circumstances that support improved sensory, motor, cognitive, and social stimulation, the resulting stimulation yields many positive effects, ranging from boosting learning and memory, to lowering the chances of triggering depression or many brain disorders such as Huntington's disease, Alzheimer's, and even stroke.
Rockland is sponsoring a new, free educational webinar, "The Hidden Effects of Epigenetic Discoveries," which will discuss how investigation in epigenetics can play a role in patient treatment, and how it impacts research in general.
This presentation has been approved for Continuing Education Credits from the American Association for Clinical Chemistry (AACC).
The webinar will feature three speakers: Jeffrey Kim, PhD, Project Leader, ADA Foundation; Christopher Scharer, PhD, Assistant Professor, Emory University; and Carlos Barrero, Research Assistant Professor, School of Pharmacy, Temple University.
Dr. Kim has extensive experience in analyzing embryonic cells and tissues in the context of identifying regenerative potentials and profiling the genome and epigenome; his current projects address repair/regenerative mechanisms in the context of oral health. Dr. Scharer's research focuses on improving and adapting sequencing applications for low cell input numbers, including ATAC-seq, ChIP-seq, Methyl-seq, and RNA-seq; he is leading an effort to integrate these epigenome-mapping technologies to understand normal immune function and autoimmune diseases. Dr. Barrero's research interests center on applying proteomics, metabolomics, and bioinformatics technologies for the study of pathological mechanisms of different diseases. Visit the LabRoots website for detailed bios for each of the speakers.
The complementary webinar, hosted by LabRoots, will be presented on October 28, 2015, at 11 am PT/2 pm ET.
For full details about the event, information on obtaining continuing education credits, and free registration, click here.
About Rockland:
Established in 1962, Rockland Immunochemicals Inc. is a global biotechnology company manufacturing leading-edge research tools for basic, applied, and clinical research in the functional genomics, gene therapy, and drug discovery markets. Rockland's laboratories have a footprint of more than 80,000 square feet, where antibodies and antibody-based tools are produced to help researchers define mechanisms underlying cell function and disease.
About LabRoots:
LabRoots is the leading scientific social networking website and producer of educational virtual events and webinars. Contributing to the advancement of science through content sharing capabilities, LabRoots is a powerful advocate in amplifying global networks and communities. Founded in 2008, LabRoots emphasizes digital innovation in scientific collaboration and learning, and is a primary source for current scientific news, webinars, virtual conferences, and more. LabRoots is the owner and producer of BioConference Live – which has grown into the world's largest series of virtual events within the Life Sciences and Clinical Diagnostics community.