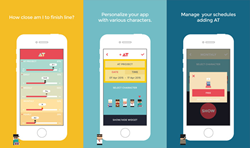 (PRWEB) October 29, 2015
AT enables users to instantly see their schedules with the time remaining for different events and tasks displayed in graph form. This visualization of time and tasks can be very helpful when setting priorities within a limited time frame. AT is simple to install and intuitively used, and features playful icons and Emoji.
More than 160,000 people have installed AT for a wide range of uses. AT can be used as a scheduler by creating and naming different schedules, and then setting a start and end date, or a start and end time. The app can also serve as a personal diary by entering information anniversaries or travel dates.
Students can use AT to improve their academic performance through its time management and planning features. They can set and check their learning targets by subject and material. By entering special dates, such as test dates, they can easily see how much time they have left for different tasks or events as a bar graph.
This app can also be applied to reach fitness goals. A seemingly distant fitness goal in the future can be broken down into manageable chunks of time: AT users can set start and end dates for their fitness goals, and then segment this time frame into sub-target dates. This makes it easier for them to stay committed, steadily make progress, and get healthier.
CEO Kim expressed the desire to help modern individuals keep up with their hectic schedules with AT. "You have to keep good track of time if you want to effectively manage it. We developed this application, which visualizes time, to allow users to keep track of their time so they can stay motivated."
Download AT by Favorie from the App Store and Google Play.
App Store Download: https://itunes.apple.com/app/id976019182
Google Play Download: https://play.google.com/store/apps/details?id=co.favorie.at