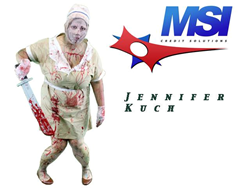 Frisco, TX (PRWEB) October 23, 2015
Add in a cash prize, and the costume contest just got that much more interesting. MSI Credit Solutions is hosting their annual Halloween Costume Contest for employees, all competing for the grand prize.
Employees are encouraged to bring their A-game to the table when it comes to their costumes. Whether it a home-made costume, a creative spin on a character, something spooky, a "punny" costume or anything else that is eye-catching, they are in the running for being the winner!
This year, there will be two winners. The first place winner will be granted a cash prize. The winners are determined by voters on Facebook. Clients and fans can vote based off of the pictures uploaded to MSI's Facebook page. A vote is determined by a "like" on a picture. Whichever participant/costume receives the most "likes" on Facebook will be granted first place with the cash prize. The second-highest amount of "likes" will be the runner-up.
MSI employees are also able to compete in Park Central 789's building costume contest for additional cash prizes!
To learn more about the contest, visit MSI Credit Solution's Facebook page: https://www.facebook.com/MSICreditSolutions.
About the company:
MSI Credit Solutions is committed to helping the local community. The company actively engages in a number of community events and charity efforts throughout the year. Some of these include hosting a canned food drive for the North Texas Food Bank and the annual holiday toy drive.
MSI Credit Solutions aims to help both community members and their customers plan for a better future. They offer credit repair and restoration services to help their clients increase their credit scores. Established in 2006, MSI is one of the leading credit repair companies in the industry.
MSI Credit Solutions is located at 12790 Merit Dr. Suite 614, Dallas, TX 75251. To learn more about MSI Credit Solutions, visit their website at http://www.msicreditdfw.com/.