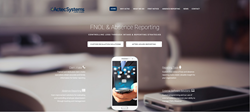 The new Actec website provides users with fast and easy access on a mobile-compliant platform.
Atlanta, GA (PRWEB) November 09, 2015
Actec Systems, a Sertec company, assists many large organizations such as airlines and manufacturers with responsive and sophisticated first notice of loss and absence reporting solutions. To better serve clients, Actec Systems has launched a new Mobile Compliant Website, providing valuable information about FNOL, employee absenteeism, absence reporting, incident reporting and custom escalation solutions. The website is compatible with all mobile devices and platforms, allowing users to easily access the website from anywhere, at any time, on any device.
Leading-edge website technology augments Actec's efforts to create highly personalized and responsive service. Leveraging customized implementations and a focus on adaptability and ROI, Actec Systems is a recognized leader in first notice of loss and absence reporting services. The website features an educational FNOL and Absence Reporting Blog, resources for clients, videos and more.
How is FNOL and absence reporting relevant to businesses in 2015? Many experts estimate that employers waste over 10% of payroll due to lost productivity. Learning more about absence reporting programs and how they can positively impact different types of organizations is the first step to reducing waste and improving a business's bottom line. In addition to describing the nature of the industry and how businesses are affected, Actec's informative new website covers various steps of the absence management process.
To learn more about customized absence reporting solutions, including specialized call centers, custom routing paths, adaptable documentation protocols, and integrated reporting solutions, visit the absence management blog or contact Actec Systems at 770-916-6847.
About Actec Systems
Actec Systems is a leading provider of absence reporting and first notice of loss solutions, and data intake for the insurance industry. Actec is dedicated to providing solutions for large organizations including commercial and personal insurance carriers, self-insured companies, third-party administrators, and managed care organizations. Actec's value-added solutions help clients control their costs, gather accurate and timely information, and work productively through the claims administration process. For more information, visit http://www.actec.com/.