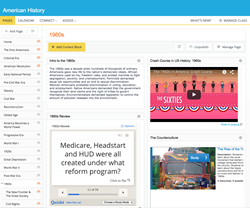 "For schools, this gives them a seamless professional development solution from end to end."
Goshen, Indiana (PRWEB) October 27, 2015
Haiku Learning, a renowned K-12 digital learning platform and GoSignMeUp, a leading provider of online workshop and training registration software, are pleased to announce a new partnership that provides a turnkey solution for organizations and schools that manage and deliver online professional development courses.
The partnership makes it easy to not only deliver online courses, but also offer course registration, credit tracking, transcript reporting, and payment support all in one integrated solution. It's ideal for professional development organizations as well as school districts that want to scale their professional development program beyond their district and even monetize those offerings.
"For schools, this gives them a seamless professional development solution from end to end," says Bryan Falcón, CEO and cofounder of Haiku Learning. "GoSignMeUp gives administrators powerful tools to manage registration and closeout, while Haiku Learning takes care of everything in between, giving educators a 21st century digital learning platform with the tools they need for today's classroom."
According to a recent Gates Foundation study "Teacher's Views on Professional Development", large majorities of teachers do not believe that professional development is helping them prepare for the increasing emphasis on technology and digital learning tools. The study also found that administrative tasks make it difficult for school leaders to effectively support professional development.
Haiku Learning enables contextualized learning experiences that make it easier for teachers to foster the connective, deeper learning needed to develop 21st century learners. Teachers and students can easily embed hundreds of web 2.0 apps, so everyone learns to become content creators and web publishers. A suite of discussion forum options help facilitate peer collaboration, and there's a variety of formative and summative assessments. For teachers and administrators, analytics dashboards help track activity and performance.
GoSignMeUp is used by organizations across the country that want to deliver any type of training or classes. The online class registration process is very simple and provides many automated features such as email reminders and confirmations, class lists, transcripts, and much more.
"GoSignMeUp has always delivered a great tool for an easy online class registration process, automated administrative features and powerful reporting and analytics," says Ed MacNevin, CEO with GoSignMeUp. "With our new partnership with Haiku Learning, this total solution now includes class and content management."
Additionally, GoSignMeUp offers numerous reports for class and student history that help to improve learning pathways as well as financial analysis. In addition, custom email lists can be created based on student class history, or demographics. Certificates can be emailed out automatically to each student upon the completion of the course.
To learn more, people can visit haiku.gosignmeup.com or watch this video to get a quick overview.
About Haiku Learning
Founded in 2006, Haiku Learning is a digital learning platform designed for K-12 schools. Powering learning for more than 2.5 million students across the globe, Haiku Learning's platform is known for its simple interface, flexible tools, and powerful integrations with other leading cloud services, such as Google Apps for Education. In 2015, Haiku Learning was honored as one of Indiana's Companies to Watch Spotlight Award Winner.
About GoSignMeUp
GoSignMeUp is the leading provider of online class registration and professional development management software. Used by organizations of all sizes and types--including corporations, health care, government agencies, and education--it is the preferred registration tool for professional development, continuing education, client education, and student enrichment. GoSignMeUp is ideally suited for face-to-face, online and hybrid class registration processes, and integrates with Learning Platforms such as Haiku Learning.