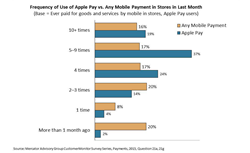 Smartphone penetration is maturing, gaining broad-based market penetration as most U.S. consumers use their mobile to shop and increasingly buy goods and services in stores and online.
Boston, MA (PRWEB) October 23, 2015
Mercator Advisory Group's most recent Insight Report from the CustomerMonitor Survey Series reveals that as smartphone penetration increases, reaching 72% of U.S. adults, more consumers are using their phones to make payments. In fact, 42% of smartphone owners have used their mobile device to pay for goods and services in stores or online. Based on U.S. Census Bureau data, approximately 71.5 million U.S. adults used mobile payments in 2015, up from 61 million in 2014.
The introduction of Apple Pay on Apple iPhone 6 and 6Plus models with record-breaking sales has helped to foster the growth of mobile payments. Apple Pay users use mobile payments more frequently than average. While half of mobile payers report using mobile payments in stores at least once a week, 80% of Apple Pay users use Apple Pay at least once a week, and 19% of Apple Pay users used it 10 or more times in the previous month. Mobile payers appear to be using mobile payments as often as they can at stores they frequently visit.
Consumers are gaining familiarity with mobile banking and mobile payment, primarily for its convenience. Mobile Payments Is Really Here, the latest research report from Mercator Advisory Group, reveals mobile payments and mobile banking is of growing interest even for wearable technology in the form of wristbands, large-sized wristwatches and clip-on devices.
This study examines the demographic shift and changing landscape of Web-enabled mobile users, consumer use of mobile devices for making payments and shopping online and in stores, related payment features including e-couponing, e-receipting, e-loyalty as well as payment, balance, and fraud alerts, experience with Apple Pay compared to payment cards, and ownership, purchase plans and important features of wearable technology for payments.
The report findings are based on Mercator's CustomerMonitor Survey Series online panel of 3,008 U.S. adult consumers surveyed in June 2015.
"Smartphone penetration is maturing, gaining broad-based market penetration as most U.S. consumers use their mobile to shop and increasingly buy goods and services in stores and online. Convenience is driving them to use mobile payments more often at the stores they visit, especially to redeem timely and useful e-coupons, discounts, and loyalty rewards," states Karen Augustine, author of the report and manager of Primary Data Services at Mercator Advisory Group, which includes the CustomerMonitor Survey Series.
Highlights of this report include:

Year-over-year trends in smartphone and tablet ownership by screen size
Year-over-year trends in use and interest in various methods of in-store and online mobile payments
Use of mobile phones for shopping online and in stores
Apple Pay use, payment cards loaded and used and satisfaction compared to payment card use
Demographics of mobile users and mobile payment users and satisfaction with operability of mobile phones
Challenges to mobile payment adoption and frustration with mobile-based coupon organization and redemption
Shifts in use and delivery methods for six types of financial alerts
Shifts in use and interest in e-couponing, e-receipting, and apps for coupon and receipt storage and management
Use, interest, format, and importance of features for wearable technology including payments, mobile banking, and money transfers
The report is 72 pages long and contains 34 exhibits
Members of Mercator Advisory Group CustomerMonitor Survey Series Service have access to this report as well as the upcoming research for the year ahead, presentations, analyst access and other membership benefits.
Please visit us online at http://www.mercatoradvisorygroup.com.
For more information and media inquiries, please call Mercator Advisory Group's main line: (781) 419-1700, or send email to info(at)mercatoradvisorygroup(dot)com.
For free industry news, opinions, research, company information and more visit us at http://www.PaymentsJournal.com.
Follow us on Twitter @ http://twitter.com/MercatorAdvisor.
About Mercator Advisory Group
Mercator Advisory Group is the leading, independent research and advisory services firm exclusively focused on the payments and banking industries. We deliver pragmatic and timely research and advice designed to help our clients uncover the most lucrative opportunities to maximize revenue growth and contain costs. Our clients range from the world's largest payment issuers, acquirers, processors, merchants and associations to leading technology providers and investors. Mercator Advisory Group is also the publisher of the online payments and banking news and information portal PaymentsJournal.com.