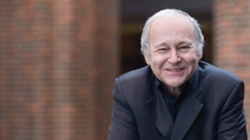 Fischer's devotion for Gustav Mahler's music will be at the core of his artistic time in Düsseldorf.
Düsseldorf, Germany (PRWEB) October 23, 2015
Adam Fischer, a celebrated conductor who has appeared on stages worldwide -- from Bayreuth to Scala and the Met -- has been announced as the new principal conductor for Düsseldorf Symphony Orchestra. Fischer's most recent successes were concerts of Gustav Mahler's works with the Vienna Symphony Orchestra in Vienna, which earned him rave reviews, and his devotion for Mahler's music will be at the core of his artistic time in Düsseldorf, now until 2020. The inaugural concert on November 20th will feature Gustav Mahler's great Symphony No. 7 and Symphony No. 88 by Joseph Haydn.
The location of the inaugural concert in Düsseldorf is the home of Düsseldorf's Symphony Orchestra, the Tonhalle, right by the Rhine River and one of the city's premiere performance spaces. The round building used to be the world's largest planetarium when it was built in 1926. It was converted into a concert hall in 1970s, and offers superior sound and architectural experience.
In addition to the inaugural concert on Friday, November 20 (8:00 pm), the same program will be performed at concerts on Sunday, November 22 (11:00 am), and Monday, November 23 (8:00 pm).
Tickets start at Euro 15. To purchase tickets and for more information, please visit http://www.tonhalle.de.
Düsseldorf's tourism office is offering hotel and city specials for stays in 2015. The package, called "Düsseldorf à la Card," can be booked right from the tourism office's website at https://www.duesseldorf-tourismus.de/en/accommodation/hotel-packages/duesseldorf-a-la-card/. Prices start at €49 per night per person based on double-occupancy for a 2-3-star hotel in the city center and at €95 per person for a 4-star hotel. The package includes breakfast, one DüsseldorfCard (free public transportation within city limits plus 30 free or reduced admissions to city attractions), and a city information package. Please check the website for current information.
# # #
Düsseldorf Marketing & Tourism GmbH is the visitors and convention bureau of the city of Düsseldorf. Its responsibilities include tourism and city marketing, as well as conference and meeting marketing, hotel reservation services, fairs and convention services, city event ticket sales and advance ticket reservations. For more information, visit http://www.visitduesseldorf.de.
Düsseldorf Airport, Germany's Next Generation HubTM, offers several non-stop flights from US cities (Atlanta, Chicago, Ft. Myers, Los Angeles, Miami, New York, Newark), as well as convenient connections to many European cities. For more information about the airport, visit http://www.dus.com.