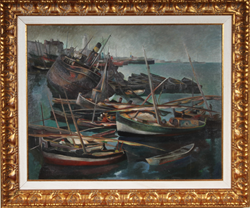 One piece I'm really excited about is 'Barcelona Harbor.' Although this piece is unsigned, it's arguably attributable to Wifredo Lam based upon the known provenance and other information provided by the estate. We anticipate a lot of interest in it....
Bridgeport, CT (PRWEB) October 27, 2015
Harlem's rich historic past meets Cuban art at Black Rock Galleries (BRG) during their Fall Estates Auction taking place on Sunday, November 8 at 1 p.m. BRG is pleased to offer this fine collection of fine art, estate jewelry, antiques, and decorative arts to the highest bidders. Many of the lots offered in this auction come from Harlem's historic Watt-Pinkney family including the estate of Beverley Lopez, great nephew of Archibald Watt and renowned artist in his own right. The Watt family farm and breeding stable was once the largest single property in Harlem and was one of the last to be developed.
Bidders may participate in the auction in person at BRG located at 1720 Fairfield Avenue in Bridgeport, CT. Alternatively, bidders may leave absentee bids, register for telephone bidding, or bid online through LiveAuctioneers.com. Absentee and telephone bidders must register before 5 p.m. on Saturday, November 7. Auction previews take place from 10 a.m. to 5 p.m. Thursday, November 5 through Saturday, November 7 and Sunday, November 8 from 10 a.m. to 12:30 p.m. Visit Black Rock Galleries for additional auction information.
"With this caliber of never before offered pieces of art held in private collections passed on through generations, including Henry Stull equestrian works and Esteban Chartrand paintings, collectors and art enthusiasts will be very excited to bid on these really incredible examples of fine and rare works," explains Grant Panarese, one of BRG's managing partners. "We anticipate a lot of interest in many of the lots being offered and expect to see some really intense bidding on some of these pieces!"
Auction highlights include:

Five magnificent Henry Stull (Canadian, 1851-1913) paintings commissioned by the Watt-Pinkney family who owned much of what is modern day Harlem. The family bred renowned thoroughbred horses including "Maid of Harlem," one of the featured pieces in the offerings
Three pristine Esteban Chartrand (Cuban/American, 1840-1884) oil on wood paintings depicting landscapes of Cuba -- all hailing from the estate of artist and descendant of the Watt-Pinkney family, Beverley Lopez
An amazing oil on canvas, measuring 32" by 39.5" attributable to Wifredo Lam (Cuban, 1902-1982) entitled, "Barcelona Harbor" from a private collection of television producer, Pedro Font
Stunning estate jewelry including a 3.93 carat diamond platinum-set engagement ring, a 2 carat marquis diamond ring, and a gold and diamond bracelet
Two military commission documents: A Pinkney appointment to First Lieutenant dated 1802, signed by Thomas Jefferson as President and countersigned by Henry Dearborn, Secretary of War and the other an appointment to Colonel for Ninian Pinkney dated 1821, signed by James Monroe as President along with a John Calhoun, Secretary of War countersignature
A detailed pen, ink, and dry brush sketch, "Dun Gone," by Edward Borein (American, 1873-1945) featuring a cowboy on a bucking horse
Two impressive Carl Kauba (Austrian, 1865-1992) cast native American bronze sculptures
A George III mahogany bookcase owned by John D. Rockefeller, Sr. at his Water Street New York City building and was acquired by the Lopez family around 1911.
A pair of Carlyle Hotel conference chairs used by John F. Kennedy on September 24, 1961 during his meeting with disarmament advisors, Arthur Dean, John McCloy, and Secretary of State, Dean Ruck.
A rare silk and stump work with oil paint highlights of the Watt-Pinkney Mansion in Harlem circa late 1800s. The Watt-Pinkney family owned much of the land that makes up Harlem.
"One piece I'm really excited about is the "Barcelona Harbor," exclaims Panarese. "Although this piece is unsigned, it's arguably attributable to Wifredo Lam based upon the known provenance and other information provided by the estate. We anticipate a lot of interest in it and because it's a great piece to place your bet upon!"
About Black Rock Galleries
Black Rock Galleries' founders, Grant Panarese and Christie Spooner, set out on their own, after almost 20 years in the antiques, auction and consignment arena, to create a one-stop enterprise based upon knowledge, honesty, integrity and the belief that fine antiques and home decor shouldn't be cost prohibitive. What began in 2010 as Bridgeport Salvage Company in the Mill Hill section of Bridgeport quickly grew into a unique business offering a consignment shop, full auction and estate sale services and expert appraisals. By 2012, growth pushed them to a new facility with over 50,000 square feet of showroom space and its new name, Black Rock Galleries. With BRG's new online auction and shopping platform, the business continues to grow exponentially under the guidance of its founders and the support of their clients. BRG is located at 1720 Fairfield Avenue, with easy access from I-95 (exit 25) and is open Tuesday through Saturday from 10 a.m. until 5 p.m. Featuring a fresh and changing inventory of quality furnishings, antiques, fine art and more, BRG offers something for every taste, budget and style. Visit blackrockgalleries.com or call (203) 335-0000.