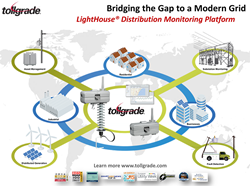 As the grid evolves into a more modern system with bi-directional power flow, having real-time, accurate voltage measurements and information will be an essential requirement for grid operators
Reston, VA (PRWEB) October 27, 2015
Tollgrade Communications, Inc., the industry leader in redefining the global standard for reliability at the world's largest electric utilities and telecommunications providers, is helping European utility companies and distribution network operators (DNOs) to improve grid reliability while significantly reducing capital and operational costs with its LightHouse Medium Voltage (MV) Sensors and Predictive Grid®Analytics software.
Tollgrade's LightHouse platform consists of inductively-powered, maintenance-free smart grid sensors and SMS software with Predictive Grid Analytics. LightHouse distribution monitoring platform provides improved grid visibility and fault detection capabilities helping utilities identify potential problems on the grid before significant power outages occur.
As European electricity grid networks become more complex and seek to integrate increasing amounts of distributed generation, such as wind, solar and hydro, utility companies and DNOs are looking at ways to more accurately monitor their network infrastructure.
"Capacity monitoring has become a key issue for European utilities and network operators, who often have limited network visibility," commented Edward H. Kennedy, president and CEO, Tollgrade Communications, Inc. "The results from our European projects have been extremely positive. Thanks to our advanced sensor technology we can provide customers better situational awareness at a significant cost savings."
Erik Christian, VP of Smart Grid for Tollgrade added, "Many technologies simply weren't designed to monitor electricity networks in real time and are each single-purposed in their functionality. Utilities are spending significant amounts of money on seven or eight different physical devices including fault passage indicators (FPIs), load and voltage monitors and phase trackers, to do one job. These devices offer very little network intelligence. Our Power Sensor combines several technologies into one device, which can be installed on overhead lines in minutes by a single engineer, all without the utility taking an outage for installation."
Accuracy and safety
The LightHouse platform is the first of its kind to offer a battery-free, software-enabled Smart Grid Sensor that has been verified by independent, third-party laboratories to measure voltage to within 0.5% accuracy.
The integration of renewable energy assets onto the grid can generate "backfeed," where power flows in the opposite direction from its usual flow. This can create an unsafe working environment for engineers, generate additional stress on the grid and cause equipment to fail prematurely. Therefore, having the ability to determine in which direction a load current is flowing is becoming increasingly important.
"As the grid evolves into a more modern system with bi-directional power flow, having real-time, accurate voltage measurements and information will be an essential requirement for grid operators," said Kennedy.
Tollgrade is engaged in UK-based projects with Western Power Distribution (WPD), Scottish and Southern Energy Power Distribution (SSEPD), Community Energy Scotland and other DNOs. Tollgrade also services customers in Europe, North America and South America.
Demonstrations at European Utility Week in Vienna, Austria 3-5 November 2015
Tollgrade will demonstrate its LightHouse MV Power Sensor in stand A.k34 at European Utility Week 3-5 November 2015, and the company invites attendees and the press to stop by for a demonstration.
Pricing and Availability
For pricing or more information on Tollgrade's LightHouse platform and Smart Grid Sensors, please contact us here.
About Tollgrade
With more than 200 million lines under test, millions of utility outage minutes avoided annually and 25 years of experience successfully locating faults at the world's largest electric utility companies and telecommunication service providers, Tollgrade is redefining the global standard for reliability. Our award-winning fault detection hardware and predictive analytics software are deployed on four continents to help operators avoid network outages and reduce customer downtime. Since 2013, Tollgrade has won more than twelve awards, established itself as the world's market share leader of smart grid sensors and was recognized by President Bill Clinton for a Commitment of Action to build a "Predictive Grid in the Motor City" with DTE Energy in Detroit. To learn more about Tollgrade, visit http://www.tollgrade.com or read more about the benefits of grid modernization on our blog.
Tollgrade Media Contacts:
Anne-Laure Leroyer
Marketing Director
Tollgrade Communications, Inc.
+1 202-701-0083 (mobile)
ALeroyer(at)tollgrade(dot)com
UK
Marcus Edgar
Resonates SLM Ltd
Newbury, Berkshire
t. +44 (0)1635 898 363
m. +44 (0)7810 876 077
e. marcus(at)resonates(dot)com