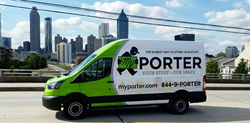 While demand for storage is high, the soaring costs as well as the cumbersome and archaic process of self-storage make it an area ripe for disruption.
ATLANTA (PRWEB) November 02, 2015
MyPorter today announced the launch of its Web-based concierge storage service in Atlanta, enabling customers to store everything, including small personal items, furniture, recreational equipment and everything in between, securely and without ever having to leave home. MyPorter delivers free eco-friendly plastic self-storage bins directly to customers' homes and then transports the items to the company's secure facilities with options for short-term and long-term storage. Vetted MyPorter employees then use vehicles from the company's fleet to execute the concierge-style pickup and delivery of storage bins. In addition to this on-demand service, MyPorter also provides customers the opportunity to generate a digital photo inventory of their items and the ability to order back anything they need that same day.
"While demand for storage is high, the soaring costs along with the cumbersome and archaic process of self-storage make it an area ripe for disruption," notes Jason Kay, founder of MyPorter. "Especially in today's on-demand economy, there's no reason why people in need of storage shouldn't be able to have a digital platform for storage in which they can have their goods picked up and delivered anytime, anywhere."
Nearly 10 percent of all American households currently rent a traditional self-storage unit, and self-storage popularity has increased nation-wide during the last decade. In fact, this sector has been one of the fastest-growing areas of the U.S. commercial real estate industry over the past 35 years, according to the Self Storage Association (SSA). Atlanta is no exception to this trend – units in the densely-populated areas of Atlanta, Sandy Springs and Roswell topped 800 in 2013, totaling more than 38 million square feet of total rentable space and averaging $115 in rent per month. Furthermore, with Atlanta being one of the most thriving apartment markets in the nation, MyPorter is also teaming up with apartment complexes in the area in order to provide preferred services to residents.
"We are excited to provide our Atlanta residents a new option for storage that gives them unlimited space in an on-demand platform," said Elliot Howell, vice president of development at Trammell Crow Residential. "This service will have a significant positive impact on the way our apartment residents store their belongings."
MyPorter currently serves metro Atlanta, including Marietta, Roswell and Alpharetta and has plans to expand to additional urban centers in the Southeast by early 2016. Customers can request delivery of any of their items at any time via MyPorter's online portal for a flat fee of $20. Storage prices start at $7.50 per month.
"Acting keeps me on the road and moving around quite a bit. MyPorter provides me with the ability to not only keep track of all my stuff, but also have essentially unlimited space I can afford." said MyPorter user Kristina Emerson. "I can store away the clothes and items I do not need right away, and know they are just a click away from being delivered back to me as soon as I need them."
To learn more about how MyPorter is reinventing storage, visit MyPorter.com or follow @MyPorterStorage on Twitter.
About MyPorter
MyPorter is a concierge storage service that is revolutionizing self-storage. MyPorter provides on-demand pickup, retrieval and delivery of stored items including small and large personal items, furniture, recreational equipment and more as well as the ability to catalog and inventory items from anywhere – it's your stuff, on demand. For more information, visit http://www.MyPorter.com and follow @MyPorterStorage on Twitter.