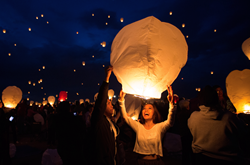 We follow all rules and regulations instituted by local and state fire officials
Olympia, WA (PRWEB) October 24, 2015
The eagerly-anticipated Lantern Fest will not be coming to Olympia today. Lantern Fest organizers were only alerted of the change yesterday at 3:40 p.m. when they received an email from Barbara Adkins, AICP Director. Although organizers had previously been granted permission to hold The Lantern Fest and worked in good faith for over a year, the event was cancelled.
"We were excited to share this amazing event with the people of Olympia," said Lantern Fest event director Spencer Humiston. "We have released over 30,000 lanterns this year alone with no incidents of ground fire. We are hugely disappointed that an issue would suddenly arise the day before the event."
Despite previously granting permission to hold the event, Adkins attributed the cancellation to the Washington Clean Air Act and the 2012 International Fire Code. Lantern Fest organizers explained that the codes had not previously been mentioned in meetings and that neither one referred to sky lanterns.
"We follow all rules and regulations instituted by local and state fire officials," said Humiston. "When holding an event in a new city, there are always questions about fire risk. We have liked working with the Mason County Commissioners, The North Mason Chamber of Commerce and local fire departments to address all concerns and ensure every law is followed and the event is safe."
The Lantern Fest will refund all ticket purchasers as soon as possible and advise participants to email their names and addresses to olympiarefunds(at)thelanternfest(dot)com to expedite the process. The company has apologized to all participants for the late cancellation notice.
Event organizers also recommend those with questions or concerns about the cancellation to contact the Mason County Department for Community Development and/or the Mason County Prosecutors Office.