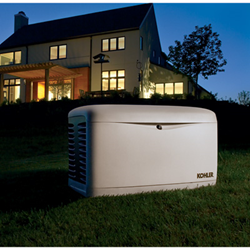 By offering quality Generator systems, our goal is to help keep Michigan families safe and comfortable during the power outages that are common in Michigan, due to harsh weather. - Frank Farmer, President- American Metal Roofs
Flint, Michigan (PRWEB) October 27, 2015
American Metal Roofs (AMR) of Flint Michigan is pleased to introduce Whole House Standby Generators as part of their home improvement services.
"People in our community have trusted us to protect their homes with beautiful American Metal Roofing systems for years. Now Michigan residents can trust us to provide that same caring service to keep their power on, with Whole House Standby Generator Systems". - Frank Farmer, President- American Metal Roofs
AMR now carries a variety of brands and sizes of generators to meet the needs of Michigan residents, in the event of a power outage. These brands include Kohler, Generac, Briggs & Stratton and General Electric.
AMR offers only the finest brands of whole house generators due to the importance of reliability when Michigan weather gets harsh. These powerful generators are activated immediately in the event of a power outage, ensuring that vital fixtures and appliances such as home medical equipment, furnace/air conditioners, refrigerators/freezer, water and sump pumps, security systems, never miss a beat.
AMR offers professional and expedited installation along with options for financing.
About American Metal Roofs:
American Metal Roofs provides residential and commercial metal roofing products and home improvement services for the Michigan Lower Peninsula. American Metal Roofs specializes in installing metal roofing from the leading manufacturers of permanent metal roofing and whole house generators.