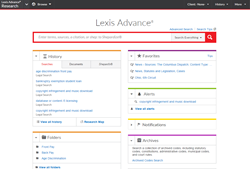 The newest Lexis Advance features enable legal professionals to find, share and use information in the most efficient way possible.
New York, NY (PRWEB) October 26, 2015
LexisNexis® Legal & Professional today announced the launch of new capabilities and resources to its online legal research solution, Lexis Advance®. Based on customer input, these enhancements offer legal professionals faster and easier ways to find and use the most relevant documents—saving valuable time they can use to focus on vital legal matters.
"Development in Lexis Advance is driven by customer feedback and today we focus on a suite of enhancements designed to deliver even better research outcomes," said Jeff Pfeifer, vice president of Product Platforms for the North American Research Solutions business at LexisNexis. "The newest Lexis Advance features enable legal professionals to find, share and use information in the most efficient way possible."
A significant new capability for Lexis Advance is Advanced Search, a form-based approach to searching that guides users to relevant information with greater ease and efficiency. This tool enables experienced users to precisely surface information and zero in on specific sections (segments) of documents. For example, segment searching allows a user to restrict queries to the title of a news article or the attorneys documented in a case law opinion in order to deliver more precise results. Advanced Search also helps novice users enter terms in easy-to-understand fields and build a search request. It's also simple for any user to quickly restrict results to specific dates or date ranges.
LexisNexis also added Arizona, Washington State, District of Columbia and Maryland jurisdictional pages, as well as Antitrust, Data Privacy, Environmental Law and Government Contract practice-area pages – bringing the total number of Lexis Advance® Practice Pages to 26. Each of these pages bring together workflow solutions and authoritative content on a specific area of focus, delivering one-click access to trusted tools and resources.
Additionally, streamlined document delivery, retrieval and folder options help users conveniently store documents and share them with colleagues. This includes the ability to export files directly to Dropbox™, a consolidated menu of all delivery options from a single dropdown menu and a new Recycle Bin feature that enables users to recover items deleted from Work Folders within the previous 30 days. Folder storage limits have also been increased to hold up to 2,000 documents per folder.
Other new features that speed research and deliver more precise results include streamlined searching for Archived Codes, updated navigation for locating terms or search strings in results, and the ability to more easily include Related Federal Content in pre-search filters.
"One of the challenges legal professionals face today when it comes to online research is the need for fast, efficient ways to find and use exactly the right information in the face of heavy workloads and an immense amount of content," said Sean Fitzpatrick, managing director of the North American Research Solutions business at LexisNexis. "The ongoing development and launch of innovative research tools and features from LexisNexis help our customers overcome these challenges to produce better results for their clients and their businesses."
More details about the new updates to Lexis Advance are available at the Lexis Advance Support & Training site. Screenshots can be downloaded here:

LexisNexis is a leading information provider in the world and a pioneer in delivering trusted legal content through innovative research solutions. The company continues its leadership position today by continually creating inventive, new capabilities that harness the power of Big Data to bring clarity to information for legal professionals. These world-class solutions deliver the unmatched collection of legal and news content from LexisNexis in ways that match the needs of the modern law practice: mobility, productivity, confidence, reduced risk and predictable costs.
About LexisNexis® Legal & Professional
LexisNexis Legal & Professional is a leading global provider of content and technology solutions that enable professionals in legal, corporate, tax, government, academic and non-profit organizations to make informed decisions and achieve better business outcomes. As a digital pioneer, the company was the first to bring legal and business information online with its Lexis® and Nexis® services. Today, LexisNexis Legal & Professional harnesses leading-edge technology and world-class content to help professionals work in faster, easier and more effective ways. Through close collaboration with its customers, the company ensures organizations can leverage its solutions to reduce risk, improve productivity, increase profitability and grow their business. LexisNexis Legal & Professional, which serves customers in more than 175 countries with 10,000 employees worldwide, is part of RELX Group plc, a world-leading provider of information solutions for professional customers across industries.