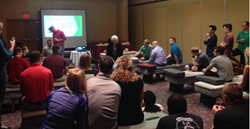 "It's all about the kids," Goble said. "It is a special moment when a parent places their child in your hands and asks you to help them and I want to help these young students provide the best possible care when they face those situations."
Lafayette, IN (PRWEB) November 02, 2015
Local chiropractor, Dr. Cherie Goble, recently donated her time to teach a weekend workshop at the Palmer College of Chiropractic in Davenport, Iowa. Goble has dedicated much of her life to teaching chiropractic students and doctors how to care for children; focusing on the art of adjusting kids as well as natural remedies.
"It's all about the kids," Goble said. "It is a special moment when a parent places their child in your hands and asks you to help them and I want to help these young students provide the best possible care when they face those situations."
Dr. Cherie Goble opened her third AlignLife clinic in Lafayette, IN to provide the best care to as many people as she can in her local communities. A frequent lecturer at chiropractic technique seminars worldwide, she is also a member of the International Chiropractic Pediatric Association and trained in the Webster technique. The clinic is accepting new patients including pregnant women, infants and children.