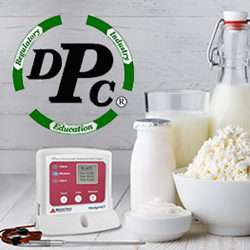 (PRWEB) October 28, 2015
MadgeTech will be there demonstrating the important role of data loggers for the dairy industry. Temperature monitoring is critical for the pasteurization process and a wealth of storage applications is necessary for the production of milk, cheese, yogurt, ice cream and more. Data loggers are an essential tool for monitoring and validating processes to ensure product quality and consumer safety.
This year, preceding the conference will be a workshop with a special focus on FSMA Preventive Control, being implemented in 2016. To assist small milk producers, the DPC publishes guidelines on everything from the construction of barns to milk sampling and managing dairy farm waste. These step by step guides help producers remain in compliance while continuing to effectively operate and thrive.
MadgeTech will be displaying an array of data loggers for monitoring dairy products, including the RFTCTemp2000A, a wireless thermocouple based temperature data logger, capable of real-time monitoring and remote data access. Featuring user programmable thresholds, this device is capable of alerting users when safe temperature levels are breached, either directly on the device, or by text or email notification.
For other dairy applications such as storage, MadgeTech offers the Therm-A-Lert data logger series, boasting the same wireless capabilities and connectivity as the 2000A series. For cheese storage and the like, this data logger can continuously and accurately monitor temperatures during the aging process or general storage.
For more information, please visit the Dairy Practices Council's Annual Conference website, or contact us at info(at)madgetech(dot)com. If you are attending the event, please stop by and say hello!