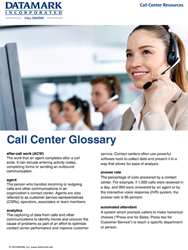 El Paso, Texas (PRWEB) October 24, 2015
The call center industry uses scores of unique acronyms, words and phrases to measure performance and describe systems and services used for customer support.
To help those inside and outside the call center world understand the meaning of acronyms such as ACW, AHT, ATT and phrases such as "blended contact center" and "intelligent auto-response email", DATAMARK Call Centers has published a new Call Center Glossary.
Avoiding confusing jargon, the glossary defines commonly used call center terms in plain, easy-to-understand English.
The glossary is available for complimentary download from DATAMARK's Call Center Insights blog at the following link:
About DATAMARK
Celebrating its 25th year in business in 2015, DATAMARK, Inc. is a leading business process outsourcing company specializing in high-volume digital mailroom management, document processing/document management, bilingual (English/Spanish) contact centers and process improvement consulting for Fortune 500 companies and other large enterprises.
Headquartered in El Paso, Texas, DATAMARK employs nearly 2,200 people in its U.S., Mexico and India facilities. For more information, visit http://www.datamark.net.