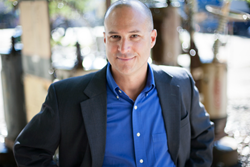 It's a great tragedy to watch thousands of families lose so much money trying to pay for college with huge loans!
Vancouver, Washington (PRWEB) October 24, 2015
John Ensley, author, college financial planning expert, and former government contracted collector of defaulted student loans, will give a free college planning workshop on October 27th from 6:30pm-7:30pm at Three Creeks Community Library in Vancouver, Washington.
Unique Experience, Unique Expertise
During his time as a government collections contractor, John Ensley learned how the financial aid system worked from the inside. After a career change, and training from some of the country's most rigorous financial planning programs, John now uses his experience to advise families on paying for college without incurring thousands of dollars in debt.
Workshop Topics
During the workshop, John will show how to send kids to the school of their dreams without going broke, how to triple eligibility for aid, and how to find scholarships and grants most have never heard of.
Additional Discussion Topics

How to pay for college with the least out-of-pocket costs.
How to send your child to a fancy private school for less than a state school.
How to pick the colleges that will give you the most money.
The one mistake every parent makes when applying for scholarships.
7 sure-fire strategies to afford the school of your dreams.
What to do right now if your child is in high school.
Insider secrets that your guidance counselor doesn't know.
Admission is free, but seating is limited by the size of the room, so please call (360) 281-6495 to reserve seats or reserve on-line at http://www.JEnsley.com/workshop.
About John Ensley
After years spent collecting on defaulted student loans for the United States Government, John Ensley now uses his unique experience to help families pay for college without going broke. John Ensley is one of only 200 Bank on Yourself Authorized Advisors in the United States, John's mission is to help his clients experience more financial security, confidence, and peace of mind.