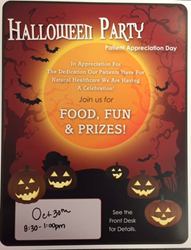 We appreciate our patients so much and the fact that they have taken a proactive approach to their health is wonderful. We want to show our gratitude by celebrating these patients as often as possible.
Simpsonville, SC (PRWEB) November 02, 2015
The AlignLife offices host several patient appreciation days throughout the year. Recently, hosting one for Halloween. The clinics invite their patients to come and enjoy food and prizes as well as discounts. The Halloween Patient Appreciation Day fell on the Friday before Halloween. Patients were welcome to bring guests.
AlignLife will continue to spread Health through the Holiday season by offering more patient appreciation days in November and December. The doctors and staff wish all of their patients' friends and families a safe and happy Halloween.