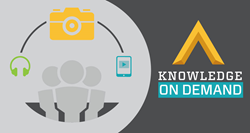 Array understands the nuances of Healthcare service lines because they've dedicated their careers to it. We create publications, podcasts and webinars on a variety of topics found useful by our clients. - Carl Davis, Array Architects CEO
Philadelphia, PA (PRWEB) December 01, 2015
Clients know that Array's beliefs and practices are more than just trends. Array places great value on research and vetting ideas amongst firm experts and clients who experience, every day, the spaces Array designs. Clients can find relevant content across a variety of mediums on Array's new Knowledge tab. Visit Array's site frequently and return often for informative content that addresses client and partner pain-points; quick updates on what Array's experts are up to, and to see which ideas are captivating the larger, industry community.
Array's Podcasts page currently provides quick audio interviews with in-house experts on lean simulation, ambulatory care trends and the impact of theming in a healthcare facility. These < 20-minute interviews introduce several of Array's experts, drilling down into specific expertise areas. For example, listeners will meet Laura Silvoy, Array's healthcare systems engineer, and Jessie McNeese, one of Array's graphic designers.
Webinars are also an easy way to stay up-to-date on industry trends. Currently available are several 30-minute sessions with such experts as Lisa Lipschutz and Marsha Whitt discuss how design best practices enable best practice medicine in healthcare facilities. From NICU design to simulation modeling to schedule acceleration, Array has experts in a variety of fields to ensure client satisfaction.
Array's Videos are now located on the Knowledge tab. Available videos include a variety of featured projects, both underway and completed; the firm's Management Series outlining the thoughts of Array's leaders; and a series on Ambulatory Drivers. Learn about Array's approach to mock-ups, visioning sessions and firm culture, amongst other compelling topics.
The podcasts, webinars and videos, coupled with Array's knowledge community, create an environment for clients to experience how Array makes it their business to understand client issues and solve their problems. In an industry where the designer's knowledge and experience can have such a profound impact on a project's success level, knowledge sharing provides clients an enhanced value. Not just through the completion of construction but on the entire lifecycle of the facility and its operations.