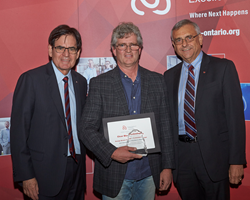 "Ventures like Clear Blue are examples of what can be accomplished through Ontario's innovation ecosystem. They are bright and fearless representatives of the talent in this province who are serving to inspire the next generation of entrepreneurs."
Toronto, ON (PRWEB) October 26, 2015
Clear Blue has developed the industry's most advanced technology to power, control, monitor and proactively service solar and wind based systems such as lighting, mobile power and security. Since its inception in 2011, Clear Blue has partnered with George Brown College and Centennial College on a number of research and development projects related to the company's Smart Off-Grid technology. OCE has made several investments in Clear Blue, which have been instrumental in helping the company commercialize its green energy technology.
Dr. Tom Corr, President and CEO of OCE, said, "Ventures like Clear Blue are examples of what can be accomplished through Ontario's innovation ecosystem. They are bright and fearless representatives of the talent in this province who are serving to inspire the next generation of entrepreneurs."
"Everyone at Clear Blue is thrilled to have received this honor from OCE," said John Tuerk, Co-founder and Chief Power Officer at Clear Blue. "The support of OCE and our ongoing partnerships with George Brown and Centennial Colleges have provided Clear Blue with resources and expertise that have been critical to our success. The benefits we receive from working with the schools also outlast the specific projects, as we have hired a number of the students as permanent employees."
Partnership with Centennial College
Since 2011, faculty and students from Toronto's Centennial College have assisted Clear Blue in environmental, electrical, functionality and communication testing of its solar and wind controllers, using outdoor installations at the college's Progress Campus. The partnership has allowed Centennial to update its energy lectures and labs to include testing methods and procedures, providing students with applied research skills and industry exposure.
"We're excited by Clear Blue Technologies' big win," says Trish Dryden, Associate Vice President, Applied Research & Corporate Planning, Centennial College. "Working together, Centennial has helped to accelerate this innovative Canadian company's capacity to bring its technology to global markets sooner. Our collaboration has also created employment opportunities for a number of students and graduates."
Partnership with George Brown College
The office of Research and Innovation at George Brown College (GBC) promotes Canadian innovation through industry-driven applied research projects, and since 2012, the college has partnered with Clear Blue to develop, manufacture and test prototypes as well as a manufacturing process for later product releases.
"We are very pleased to congratulate Clear Blue Technologies, a truly innovative Canadian company, on this award," says Robert Luke, Vice President of Research and Innovation at George Brown College. "Our collaboration with Clear Blue to date has been a flagship project in George Brown's efforts to advance green technology applied research, and we are pleased to have contributed to the company's innovation capacity."