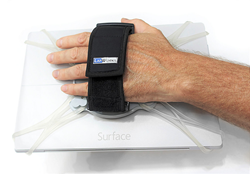 Users can now say goodbye to hand fatigue and sore fingers caused by handling supersized tablets.
RANCHO CUCAMONGA, Calif. (PRWEB) October 29, 2015
In 2010, Steve Jobs and Apple turned the PC-dominated world upside down with the introduction of its iconic iPad. Not surprisingly, the major PC and phone manufacturers, along with many other not-so-known players, introduced their own Android-based tablets thereafter.
While mobility and functionality were key issues then and remain so now, users have been clamoring for a step up in size – they want larger, lighter devices offering even more functionality. To that end, Apple is set to launch their highly-anticipated iPad Pro (equipped with a 12.9" viewable screen and weighing approximately 1.6 lbs.) in November. Not to be left standing at the altar, and building on the success of their Surface Pro 3, Microsoft just announced their newest Surface devices, the Surface Pro 4 (12.3" display) and Surface Book – a laptop-first tablet device boasting a slightly larger display than the iPad Pro. And there's certain to be many more "Pro-sized" tablets to hit the market soon.
The hoopla surrounding the introduction of this new breed of bigger, lighter, faster and more function-laden machines is deafening, yet there's a dark side to the story that few seem to have considered – the issue of improper ergonomics and associated problems. Ranging from carpal tunnel injuries to newly introduced maladies, such as text neck and iPad shoulder, there's a slew of issues sure to become more pronounced and prevalent given the migration to the bigger devices.
Fortunately for the throng of users out there who can't wait to get their hands on these bigger machines, California-based LapWorks had the foresight to consider these issues. A leader in creating ergonomically-focused mobility accessory products, LapWorks is pleased to announce their new Tablet Handler Pro – a compact, highly versatile, soft grip handle device that allows users to say good-bye to hand fatigue and sore fingers from gripping a tablet for long periods of time.
The Tablet Handler Pro is built specifically to provide users with a safe, secure and comfortable way to hold 10" to 13" devices, including the iPad Pro, Surface Pro 4, Surface Book, and the plethora of larger tablets soon to flood the market. Oh, and it's completely compatible with last year's larger models, such as the Surface Pro 3 and Samsung Galaxy Pro 12.2.
The beauty of the Tablet Handler Pro is its size and simplicity – it's super compact (5" x 4" x 0.5" and weighs just 6 oz.) – uses are sure to be left with the thought, "Hey, that's so simple, why didn't I think of that?" What makes the unit truly unique is the use of strong, yet thin and stylish removable silicone loops, allowing the device to easily fit in a purse or pocket. There are two sets of the heavy-duty silicone loops included – the larger set fits 12 to 13 inch tablets and the smaller set fits 10 to 11 inch tablets. Each set incorporates four silicone loops that are precision engineered, utilizing a design that locks them into place and prevents them from slipping or rolling off the edge of a tablet. Meanwhile buttons, ports and cameras remain available for use. And they are constructed of super strong silicone elastomer that's UV inhibited, so they won't crack, tear or break. They've been field tested and proven to be durable and reliable.
But don't be fooled by the unit's compact nature, as it's built upon a base handle constructed of high impact ABS, polycarbonate and Zinc alloy materials - it's tough and guaranteed for durability. The handle boasts a swiveling hub that rotates 360 degrees, enabling easy switching from portrait to landscape, or anywhere between. It can be quickly and easily converted into a stand for the unit or it can be detached, enabling the user to attach the EZconnect Adapter, which comes included with the Tablet Handler Pro. The EZconnect Adapter allows users to easily attach their iPad Pro, Surface Pro (3, 4 or Book) or other Pro-sized tablet devices to LapWorks' 4-prong stands and mounts, including the Sky Crane Floor Stand, Armbot Desk, Wall and Car Mount, and the RoboTX Deluxe Desk Mount.
Given that users have been known to hold their iPads and Tablets for hours on end, one of the best features of the Tablet Handler Pro is the fact the unit incorporates a 2" wide, stay cool, neoprene-lined adjustable Velcro hand strap that's capable of accommodating any hand size. Similar competitor products incorporate stiff leather or ballistic nylon, neither of which are gentle on hands during lengthy periods of use.
Bottom line, the Tablet Handler Pro will allow users to easily manage and manipulate this new wave of Pro-sized devices in a safe and secure manner. Equally important, it will help fight fatigue and cramping, reduce tablet heat by as much as 10 degrees and deliver hassle free, comfortable user experiences with each and every use.
The LapWorks' Tablet Handler Pro is now available online. The retail price is $69.95, but it is available at the discounted price of $44.95, with free shipping. For more information visit the manufacturer's websites at http://www.laptopdesk.net and http://www.heldtite.com/.
About LapWorks Inc.
Founded in 2000, LapWorks is committed to providing customers with high-quality ergonomic accessories that make a person's mobile life easier. LapWorks' latest offerings, the Tablet Handler Pro and Gripzilla Pro tablet handlers, add yet more outstanding products to the company's impressive line-up of iPad, Tablet, notebook and gaming accessory solutions for everyone from homemakers to corporate professionals. Browse the company's selection of iPad and Tablet accessories at http://www.laptopdesk.net or http://www.heldtite.com, or call 888-527-3375 to speak to a knowledgeable customer service agent.
For further information, please contact:
José Calero
President, LapWorks Inc.
(888) 527-3375
jose(at)laptopdesk(dot)net
###