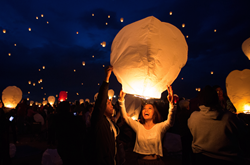 Safety is our number one priority. We work closely with the fire department in every city we visit and follow all rules and regulations
(PRWEB) October 24, 2015
The Spokane Lantern Fest event, originally scheduled for this weekend, was postponed until November 14. After an unusually hot and dry summer and a warmer fall than expected, the fire department was forced to move the event into November. Participants were emailed about the change.
"Safety is our number one priority. We work closely with the fire department in every city we visit and follow all rules and regulations," said event organizer Spencer Humiston. "The new date will reduce fire risk and allow for a safer yet equally spectacular event."
Families and friends can settle in early to enjoy the festivities leading up to the event. Activities are appropriate for participants of all ages and include face painting, live music, a stage show, princesses, s'mores, and more, as Lantern Fest promises to be a highlight of the year.
Lantern Passes can be purchased online and are required for admission to the event. Each adult pass comes with a lantern, marker, s'mores kit, and lighter. All are welcome to join. Visit http://www.thelanternfest.com/location/spokane for more information about The Lantern Fest. Checkout what fans have to say on The Lantern Fest Facebook page at: http://www.facebook.com/thelanternfest
About The Lantern Fest
Historically Chinese Lanterns were used to symbolize good fortune, request favorable weather, or to celebrate the life of a loved one. But in 2015, The Lantern Fest transformed this ancient tradition into a family-friendly festival. There is food, music, s'mores, children's entertainment and, when the sun goes down, lanterns will light the sky in one spectacular release.