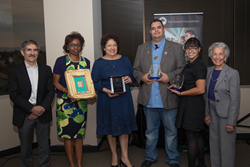 Denver, CO (PRWEB) October 26, 2015
For the past two decades, The Denver Foundation has presented the Swanee Hunt Leadership Awards to community members who make major contributions to improving life for people in Metro Denver. Hunt, for whom the award is named, is a world-renowned philanthropist, author, and the former U.S. Ambassador to Austria. She now lives in Massachusetts, but offers these awards as one of the ways she keeps ties with the Denver community, where her philanthropy began with The Hunt Alternatives Fund. On Monday, October 19, Anna Jo Haynes, a nationally-recognized leader in early childhood education and former trustee of The Denver Foundation, presented three honors on behalf of Ambassador Hunt at The Denver Foundation's Annual Community Leadership Awards.
The 2015 Hunt Emerging Leaders Award was given to Blanca Trejo and Jesse Ramirez.
Blanca is a Denver native and a graduate of West High School and the Center for International Studies Program. As a Boettcher and Gates Scholar, she triple-majored, earning degrees in Spanish, Political Science, and International Business from the University of Denver in 2010. Blanca now serves on the Boettcher Scholar Alumni Board. She has been an advocate for immigrant rights and for Colorado ASSET, the program which allows eligible students without documentation to pay in-state tuition, since she was 15, and has served as a community and youth organizer with Together Colorado, United We DREAM, and the PICO National Network. She is a proud sister of Pi Lambda Chi Latina Sorority Inc. and a comadre (co-founder) of the Epsilon Chapter at the University of Denver. She has been the co-chair of the annual Keeping the DREAM Alive Conference since 2014. In 2015, she was asked to sit on the national United We DREAM DREAMers Educational Empowerment Program Advisory Board.
Jesse is Blanca's husband and co-founder of INSPiRE. Jesse is a first-generation Mexican-American and a first-generation college graduate, having earned a B.A. in Political Science and Minors in Chicano Studies and Latin-American Studies from Colorado State University. Jesse completed Master's course work in Educational Leadership from CSU. He has worked to promote college access for low-income and immigrant youth for seven years. In 2014, Jesse and Blanca co-founded a nonprofit called INSPiRE, designed to empower young people to be change agents in their schools, families and communities. INSPiRE currently works in nine Denver Metro-area high schools.
"It's a blessing to see how far one family has come, within one generation, and we are very humbled to win an award like this," said Jesse. "We never do it for the awards. We do it because we look into the eyes of young people who need something like INSPiRE. When they say, 'Thank you for all you did for us,' I say, 'All I did was show you how amazing you are. I got out of the way so you could see it.'"
Representative Rhonda C. Fields was the recipient of the Swanee Hunt Individual Leadership Award. Running on a platform of protecting the most vulnerable, promoting economic growth and education reforms in Colorado's legislature, Rep. Fields was elected to the Colorado House of Representatives in 2010. She is the first African American woman elected in House District 42 in Aurora. She sits on the education committee and is the chairwoman for local government committees. In 2014, she became the first African American woman appointed Speaker Pro Temp for the House of Representatives.
Rep. Fields is also the founder of the Fields Wolfe Memorial Fund, a nonprofit started in memory of her son Javad Marshall-Fields and his fiancée, Vivian Wolfe, who were murdered in 2005. In 2007, Gov. Bill Ritter appointed Rep. Fields to the Colorado Commission on Criminal Juvenile Justice, where she fought to improve public safety and our criminal justice system. Rep. Fields also serves on numerous boards, including the Safe 2 Tell Advisory Board and Voices of Victims. In 2014 and 2011, 5280 ranked Rep. Fields 37th on its list of the 50 "most powerful" people in the Denver Metro area. Rep. Fields was inducted into the Aurora Women's Hall in 2013 and recognized by the Denver Women's Chamber for her legislative work addressing issues important to women. She received the 2011 Leadership for Healthy Communities Award from the Robert Wood Johnson Foundation, the 2010 Martin Luther King Jr. Humanitarian Award, and the Colorado Black Chamber of Commerce President's Courage Award.
Rep. Fields dedicated her Hunt award to those who advocate for the victims of crime: "Everything I do is with all of you in mind," she said.
The Denver Foundation presented the eighth annual John Parr and Sandy Widener Civic Leadership Award to Katherine Archuleta. The award was presented by David Miller, President & CEO, who had strong ties to both John Parr and Sandy Widener for whom the award is named. The couple died tragically in a car crash in December of 2007, while traveling on vacation with daughters Chase and Katy. Only Katy survived. "They were role models who inspired others to be leaders in the community," David stated about his late friends. "This occasion is both bitter and sweet," Miller added, noting that this year's awards would be his last as The Denver Foundation's leader.
Most recently, Katherine served as Director of the Office of Personnel Management for the Obama Administration, the highest ranking Latina in the federal government. Katherine also worked as National Political Director for President Obama's reelection campaign and spent two years as Chief of Staff at the Department of Labor under the leadership of former Secretary Hilda Solis. Katherine was a senior advisor to Denver Mayor John Hickenlooper on policy and initiatives. Among her many accomplishments, Katherine served as the executive director of the National Hispanic Cultural Center Foundation, worked as the director of professional services for a Denver law firm, and co-founded the Center for Regional and Neighborhood Action. During her tenure in the Clinton Administration, she served as a senior advisor to Secretary Federico Peña at the Department of Energy, and as his Chief of Staff and Deputy Chief of Staff at the Department of Transportation.
"I can't tell you how much it means to me to be back with all of you building a great city that is rich in civic engagement, in culture, and is continuing to care for the people who live here and have the most need," Archuleta said. "I had the pleasure of working alongside John and Sandy for many years, and to be recognized in their reflection is a great honor indeed."
About The Denver Foundation
The Denver Foundation is a community foundation that has been taking care of the future since 1925, inspiring people and mobilizing resources to improve life in Metro Denver. In 2014, the Foundation and its donors awarded more than $67 million in grants from nearly 1,000 different funds created by individuals, families, and businesses since the organization's founding in 1925. Visit denverfoundation.org for more.