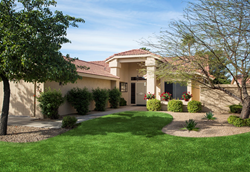 This is another win for California
San Diego, California (PRWEB) October 27, 2015
Following last month's legislation regarding HOAs and artificial turf, California Governor Jerry Brown has signed a bill prohibiting cities, counties, and any part therein from limiting the installation of drought-tolerant landscaping, synthetic grass, or artificial turf on residential property. Additionally, the bill reaffirmed that conservation is an issue of statewide concern.
Authored by Assemblyman Mike Gatto (D-Los Angeles), Assembly Bill 1164 was signed into law on Friday, October 9th and took effect immediately.
"Assembly Bill 1164 gives homeowners the opportunity to substantially conserve water through the installation of artificial grass, which, in the face of the drought, can serve as a significant contribution to our state," said Steve Haber, CEO of EasyTurf. "This is another win for California."
Although weather forecasters have predicted more rain this season thanks to El Nino, it is unlikely that it will be enough precipitation to eradicate the drought.
"There is no better time to replace your lawn with artificial turf," said Haber. "An EasyTurf lawn can save homeowners a substantial amount of water, money, and time. When the rain finally does arrive, EasyTurf's 100% permeable backing will allow for complete drainage. Whatever the weather, EasyTurf has it covered."
"AB 1164 will empower Californians to go beyond shorter showers and efficient-flush toilets and do more to conserve water in their homes," Assemblyman Gatto said in his own press release. "With 60 percent of residential water going to lawns and other outdoor uses, it's time for government to stop being part of the problem and start creating, never mind preventing, solutions."
About EasyTurf®
EasyTurf, a FieldTurf® company, provides environmentally friendly residential and commercial lawns, recreational fields, playgrounds, putting greens, and conservation plans for communities throughout North America. The state-of-the-art turf offers realism, drainage, and durability for both residential and commercial applications. EasyTurf is based in Vista, Calif. (northern San Diego County). More information is available at http://www.easyturf.com or by calling (866) 352-0233.