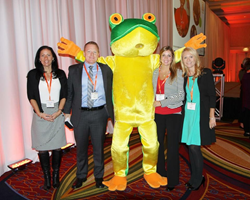 The level of participation in Member Connection has been very strong throughout the first four months and this award reflects that. - Matt Creech, Membership Business Unit Leader, SAE International
WARRENDALE, Pa. (PRWEB) October 26, 2015
"Member Connection™," SAE International's online forum for its global membership is winner of Higher Logic's 2015 Most Successful Launch award.
SAE International accepted the award during Higher Logic's Super Forum on October 21 in Arlington, Virginia.
Launched in June, the Member Connection™ offers an open forum for the exchange of ideas that help members overcome specific technical challenges, broaden perspectives on a limitless number of topics, help advance careers, and link to a wide array of people and information sources.
"We are extremely pleased to accept this award from Higher Logic," Matt Creech, Membership Business Unit Leader, SAE International, said. "The level of participation in Member Connection has been very strong throughout the first four months and this award reflects that. We created Member Connection to be the premier online community for mobility engineering where our members continue to grow personally and professionally while deriving more and more value from their SAE membership. We are excited for what the future holds."
To date, SAE International's Member Connection™ has more than 1,500 discussion posts and counting, with members-only content constantly being added. Discussion topics vary widely; some of the most talked about issues include "Ways to Combat the STEM Crisis," "Autonomous Vehicles, and "Development and Verification of Heavy Duty Truck Engines." In the coming weeks, an Automotive Sector Discussion Group will debut, and a volunteer module will be added.
"It has been an absolute pleasure to work with SAE during this project. It was clear from the early stages that their strategic approach to their community engagement, combined with their vision and mission focus, meant they were setting themselves up for success," Andy Steggles, President & Chief Customer Officer, said.
"It's been just four months since the launch, and they have taken a clear leadership position with both the quantity and quality of their engagement across multiple measurable KPIs. I sincerely look forward to working with the SAE staff to further grow their community, its engagement, and ultimately the satisfaction of SAE's members and other constituents as we continue our partnership," Steggles added.
For more information on Member Connection™, visit http://connection.sae.org/home.
SAE International is a global association committed to being the ultimate knowledge source for the engineering profession. By uniting over 137,000 engineers and technical experts, we drive knowledge and expertise across a broad spectrum of industries. We act on two priorities: encouraging a lifetime of learning for mobility engineering professionals and setting the standards for industry engineering. We strive for a better world through the work of our philanthropic SAE Foundation, including programs like A World in Motion® and the Collegiate Design Series™.