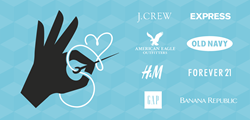 "When we applied Meta4 Insight to the model... we uncovered clear emotional differentiation for each brand." - Anders Bengtsson, Protobrand CEO
(PRWEB) October 23, 2015
October 21, 2015: Protobrand released the results of its latest research study exploring emotional territory occupied by eight major clothing retailers. The Meta4 Insight study looked at Gap, H&M, American Eagle, Banana Republic, Forever 21, Express, J.Crew and Old Navy, eight retailers with business in the U.S. that typify the competitive landscape. Protobrand used a combination of metaphor elicitation visual exercises and traditional cognitive survey questions to discover the differences in emotional drivers to and from these brands.
The retail clothing market is crowded with competitors; beyond the above mentioned brands we studied there exist a menagerie of retailers catering to every imaginable niche. From sport apparel and casualwear to tailormade and handcrafted, retail is a broad category with brands creating clear differentiation from themselves. However, studying brands within a certain niche--brands known by women ages 25-34--adds complexity to any potential analysis.
"Looking at the brands we chose to study, a traditional positioning model may not be able to provide clear differentiation between brands like H&M and Forever 21," said Protobrand CEO Anders Bengtsson during the webinar. "When we applied Meta4 Insight to the model, however, we uncovered clear emotional differentiation for each brand."
Meta4 Insight's 650+ image library allows respondents to create a metaphorical link between themselves and brands by selecting an image that best captures their subconscious feelings. Using this method, Protobrand discovered the emotional positioning of each brand: H&M and Forever 21 were shown to represent a fun and innovative sense of style, whereas American Eagle, Gap and Old Navy register as basic, yet versatile. Finally, J.Crew, Banana Republic and Express charted as upscale and professional. To see the metaphor data behind these positioning labels and other research conclusions, view the webinar on Protobrand's website.
Protobrand is an independent research and branding company specializing in uncovering emotional insights. Through Meta4 Insight™, an application for online metaphor elicitation, we reveal people's subconscious minds to develop insights that create emotionally resonant brand relationships. Meta4 Insight builds upon decades of academic thought and scientific research into the workings of the human mind. Clients include Disney, P&G, AOL, Bank of America, Target, and Unilever among others.