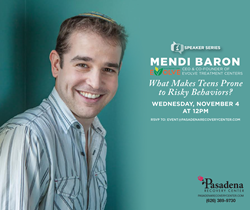 Pasadena, CA (PRWEB) October 28, 2015
Pasadena Recovery Center is pleased to welcome the CEO and co-founder of Evolve Treatment Centers, Mendi Baron, LCSW, to their groundbreaking speaker series on Wednesday, November 4th at 12pm. Mendi, a passionate advocate for teens in the field of mental health and addiction, is a sought after speaker. His natural ability to communicate with adolescents, parents, and professionals has earned him the reputations as the "go-to expert" to start the conversation on critical issues that impact teens and their families.
Mendi blogs for Psychology Today and has contributed articles to USA Today, Keys to Recovery, In Recovery Magazine, Paradigm, Step 12 Magazine, and The Sober World. He has been cited in Ashbury Park Press, TheWrap.com, and has been a featured guest on national, local, and syndicated radio programs across the country.
Mendi earned a BA with honors in psychology and social work at The University of Maryland and continued on at The University of Maryland School of Social Work to earn his MSW.
In launching Evolve Treatment Centers one year ago, Mendi set out to create more than just a facility. He describes Evolve as, "a home that builds on our clients: who they are, where they want to go, and what they want to do. We provide them with strong clinical underpinnings, experiential therapies, educational supports and life skills trainings, so that when they leave, they've grown personally, clinically and are ready to take on the challenges that are facing them when they move out."
Mendi, whose mission is to help teens become the complete individuals they were meant to be, will raise awareness for teens struggling with addiction and mental health issues. He is sure to bring a unique blend of vigor, inspiration, and knowledge to this month's speaker series event.
Mackenzie Phillips, the Treatment and Recovery Advocate at Pasadena Recovery Center, will be introducing Mendi Baron, and following the talk, there will be an opportunity for the audience to ask questions.
"We are honored to have Mendi Baron as our featured guest for this month's speaker series," said Phillips. "We know he will provide a captivating, unique, and insightful presentation that cannot be missed."
The Pasadena Recovery Center Speaker Series hosts noted authors, entrepreneurs, celebrities, and experts to talk about their personal experiences with addiction and the way it has affected both themselves and the people around them.
MENDI BARON, CEO and co-founder of Evolve Treatment Centers, has launched several treatment programs in the last year: five programs for teens struggling with mental health and addiction issues - three residential facilities (Agoura Hills, Ojai, and Topanga) and two outpatient facilities (Bel Air and Ojai); The Jewish Community Program by Evolve (Brooklyn and Los Angeles), a community outpatient resource for observant Jewish families and children struggling with mental health and addiction issues, and Bel Air Treatment by Evolve (West Los Angeles), for emerging adults (18 to 35) struggling with mental health and addiction issues. He also blogs for Psychology Today and writes for a plethora of health and lifestyle based magazines.
PASADENA RECOVERY CENTER: Located in the charming historic district of Pasadena, the Pasadena Recovery Center was co-founded in 2000 by renowned psychiatrist Dr. Lee Bloom, his daughter Alison Triessl, and his son Michael Bloom. The 98-bed drug and alcohol treatment center is nationally known for its 12-step based comprehensive treatment program and highly skilled, licensed and certified staff. Pasadena Recovery Center is dedicated to providing compassionate, comprehensive care to those suffering from chemical dependency and is proud to offer lifesaving and life-changing treatment at an affordable cost. The Pasadena Recovery Center's goal is to reintroduce sober individuals into society with the skills necessary to lead meaningful, productive lives.