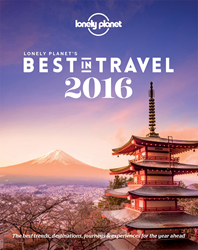 Best in Travel 2016 highlights the places travelers should go next year.
Oakland, CA (PRWEB) October 27, 2015
Lonely Planet – the world's leading travel media company – released today its 11th annual selection of the best places to travel in the year ahead. Lonely Planet's Best in Travel 2016 ($14.99) is the highly-anticipated collection of the most significant upcoming travel trends, destinations, journeys and experiences all over the world.
Every year, Lonely Planet's Best in Travel draws on the knowledge, passion and thousands of miles traveled by Lonely Planet's editors, writers and community to recommend the Top 10 Countries, Regions, Cities and more to visit in the upcoming year.
In addition to being published in the Best in Travel 2016 book and online at lonelyplanet.com/best-in-travel, the top picks will be featured in the first issue of Lonely Planet's new U.S. magazine, Lonely Planet, hitting newsstands November 3, 2015.
In Best in Travel 2016, Botswana is named #1 country, Transylvania as #1 region and Kotor as #1 city. Other destinations recognized include the U.S.A., Valle de Viñales in Cuba, Hawaii, West Iceland, Nashville and more.
Best in Travel 2016 is complete with a Travel Planner which maps out month-by-month the festivals, cultural events and parties happening in 2016 to help plan a trip to the top destinations, and also features 17 unique thematic lists including:

Best value destinations
Most accessible destinations
Best places to seek silence
Best places to elope
Best moustache destinations
Best burger experiences
"Best in Travel highlights not the places travelers are headed to next year, but the places our team determined they should visit," said Tom Hall, Lonely Planet's Editorial Director. "We picked a mix of up-and-coming destinations and places we anticipate will have buzz around them, based on special events and attractions, anniversary celebrations, new openings and more.
For the complete list of winners from Best in Travel 2016, visit http://www.lonelyplanet.com/best-in-travel.
Quiz and competition:
What is your travel destiny for 2016? is an inspiring online quiz helping travelers discover which Best in Travel 2016 destination is right for them. The quiz (http://www.lonelyplanet.com/best-in-travel-quiz) asks a series of multiple choice questions – perfect seatmate, ultimate in-flight entertainment, ideal drink – to reveal the ultimate place for them to visit in 2016. Once completed, visitors will have a chance to win a trip to their choice of a Best in Travel 2016 destination courtesy of this year's global sponsor of Lonely Planet's Best in Travel, Turkish Airlines.
About the Book:
Lonely Planet's Best in Travel 2016
October 27, 2015 | $14.99 | 11th Edition
5.7″ x 7.1″ | 208 pages | Full-Color
Paperback | ISBN-13: 978-1743607459
About Lonely Planet:
Lonely Planet is the world's leading travel media company, providing inspiring and trustworthy information for every kind of traveler since 1973. Over the past four decades, Lonely Planet has cultivated a dedicated traveler community and printed over 130 million books in 13 different languages to almost every destination on the planet. The Lonely Planet ecosystem also includes digital and mobile apps, a comprehensive ebook collection, an award-winning website, more than 8.5 million followers on social media and Lonely Planet magazine launching November 2015. Visit us at lonelyplanet.com, and join us on Facebook (facebook.com/lonelyplanet), Twitter (@lonelyplanet and #lp) and Instagram (instagram.com/lonelyplanet).