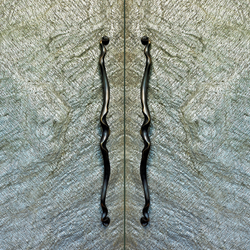 "functional art that could work either as a practical door handle or as a wall sculpture".
(PRWEB) October 26, 2015
The collection of contemporary door hardware by Martin Pierce Hardware was first offered as a series of stainless steel door handles and cabinet pulls but has been added to over the years and now includes stainless steel towel rails and soap dishes. The sleek and fluid Ergo collections was first introduced in a two tone satin and high polish 316 stainless steel.
The design inspiration, according to Martin Pierce, "came from the organic themes of the art nouveau movement and in particular from the works of Victor Horta, Galle and Guimar." The collection is now making its debut in silicon bronze and is available from Martin Pierce Hardware through design professionals.
Designed with smooth contours that easily fit the hand, the ergonomic design combines beauty and functionality in an architectural hardware collection that is well-suited to hospitality and residential markets.
As with all of their work, these castings are made by Martin Pierce Hardware in the lost wax method which, while time-consuming, is a process that allows them to create exceptionally detailed pieces. It is the detail and artistry of their work that sets them apart as a door hardware designer.
The Ergo Epic Bronze Door Handles is available in a standard size; Door Pull 2 ½"W x 3"D x 35 ¼"H (64 x 76 x 895mm)
Martin Pierce, founder of Martin Pierce Hardware, was born and educated in Worcester, England. He received no formal art education, but was trained as a wood carver and became a master wood carver and sculptor. He left England with his wife Anne and moved to Los Angeles, where they began their furniture collection. The absence of suitable artistic cabinet handles led Pierce to begin creating functional art, firstly in the form of cabinet pulls and later as door handles, bathroom accessories and most recently lighting.