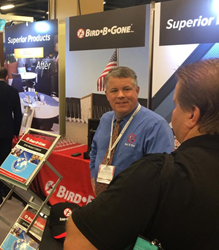 Bird B Gone manufactures products in the United States to ensure they meet the highest standards of quality in the industry
Irvine, CA (PRWEB) October 27, 2015
Showcasing its full line bird control products, as well as its comprehensive support and training services, Bird B Gone recently met with old friends and new at the 2015 Pestworld show in Nashville. Bird B Gone once again sought to remind its many installers and distributors throughout the world that the company remains their "partner in bird control."
New Products Showcased
Bird B Gone showed off a number of new bird control products that can add a recurring revenue stream to one's bird control business. Among these is its Bird Hazer, an affordable hazing system that releases a fine fog (less than 5-micron particle size) of EcoBird 4.0 indoor/outdoor bird repellent into the air. The new "plug and play" hazer is said to be more effective than other bird hazing units. It features a 1-liter tank and uses far less liquid repellent than other hazing units. Each main control unit controls up to 6 satellite units for full perimeter coverage. Bird Hazing is particularly effective in removing birds from large enclosed and semi-enclosed areas, such as docks, overhangs, warehouses, aircraft hangars and plant nurseries. It has been proven effective for driving out pigeons, seagulls, geese, starlings, and many other pest birds.
In-Depth Training
To ensure its installers and distributors get the most out of every bird control product it provides, Bird B Gone offers a free all-day training course on the basics of bird control at Bird B Gone University where graduates receive a certificate of completion. Free marketing and training materials are also provided.
Comprehensive Service
Installers and distributors can take advantage of Bird B Gone's more than 90 years of combined experience in the bird control industry. Bird control experts are available to provide information and guidance in the use of the company's many bird control products. The goal is to ensure that installers and distributors make the best decisions in designing, specifying and installing the right products to fit each job.
Guaranteed Quality
Bird B Gone manufactures products in the United States to ensure they meet the highest standards of quality in the industry. All products go through an extensive quality control process before they leave Bird B Gone's warehouse, and each product is hand inspected and "signed off" as its packaged. Bird B Gone products are humane, effective and carry industry-leading guarantees. This is why Bird B Gone products are the most specified by architects, engineers and government agencies.
Fast, Expedited Shipping Options
Because it manufactures its own products, Bird B Gone offers its customers exceptional flexibility in convenient and expedited shipping options. This includes same-day shipping, even on custom bird control netting.
Bird B Gone Gives Back
The company motto: "it's more than just bird control products, it's faith, family and friends" is emblematic in the way Bird B Gone treats its team members and customers like family. This includes those less fortunate around the world, which is why the company has teamed with Children of the Nations, (a non-profit organization that provides holistic care to orphaned and destitute children across the globe) to help fund the building of orphanages in Liberia and Sierra Leone, Africa.
Bird B Gone is the world's largest manufacturer and distributor of bird control products, providing effective and humane solutions to a bird-free environment. The company provides advice; training and installation services for those who need help with these and other bird control measures. For the complete line of products from Bird B Gone, call 1-800-392-6915; fax: 949-472-3116 or visit our website at http://www.birdbgone.com, e-mail: nobirds(at)birdbgone(dot)com.