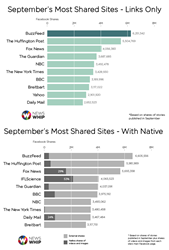 "For the 1st time our biggest Facebook publishers rankings contain native content trends data. The winners in native were even a surprise to us!" - Liam Corcoran, Heads of Communications - NewsWhip
New York, NY (PRWEB) October 26, 2015
NewsWhip's latest report on the largest Facebook publishers finds new change in the top 10, with BuzzFeed now claiming top spot in a rankings dominated by news media. Old and new media alike appear in the top 10, with trends data across URLs and native Facebook also being revealed for the first time by NewsWhip.
Key highlights in the report include:

BuzzFeed claiming 1st spot, with 6.25 million engagements on its content.
Huffington Post the closet challenger in 2nd, with 5.5 million engagements.
Right-wing sites - Fox News, Breitbart and DailyMail - in 3rd, 8th and 10th respectively.
Few left-wing media sites ranking, with only The Guardian in 4th spot.
IFLScience, Fox News and DailyMail are the Kings of native Facebook content engagement, far out-pacing the competition.
See the full report and charts on the NewsWhip blog, to learn what these trends mean for media and marketing professionals.
About NewsWhip:
Based in Dublin, Ireland and New York, NewsWhip is a social signals platform, powering a suite of trending analytics products, used by journalists, editors, marketers and comms and PR professionals.
NewsWhip's best-known product, Spike, is a dashboard for analyzing real-time social velocity of content and social posts. Spike predicts 79% of future viral news and stories, and is used by clients such as: BBC, BuzzFeed, Edelman, FleishmanHillard, Huffington Post, Intel, Lenovo, Mastercard, MTV and Yahoo!