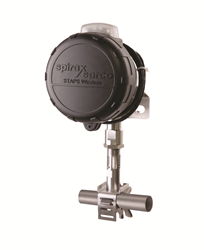 Blythewood, South Carolina (PRWEB) October 25, 2015
Spirax Sarco is proud to announce the release of their newest brochure entitled, "STAPS Wireless Steam Trap Monitoring" This brochure describes how the Spirax Total Acoustic Performance Solutions (STAPS) wireless steam trap monitor unit is designed to deliver accurate wireless monitoring and reporting of steam trap performance around the plant. This 4-page, full color brochure covers the features and benefits of the product, why steam traps should be monitored, and how STAPS wireless works.
The brochure is available in print or as a pdf. at http://bit.ly/1KuEJ53.
About Spirax Sarco, Inc.
For engineers around the world Spirax Sarco is synonymous with excellence in steam system management. We offer the industry's most extensive range of products and services, coupled with expertise based on over a century of practical application across a variety of industries. In short we create the solutions that set the benchmark for steam using organizations worldwide, working alongside them to improve productivity, save energy and reduce waste.
Our commitment to customers is supported by over 1,100 dedicated engineers, a direct sales force in 55 countries worldwide, through which we serve customers in around 100 countries and complemented by substantial investment in state-of-the-art locally based manufacturing. Our aim is to help customers build sustainable and profitable business, using their country and industry insight to tailor solutions precisely to their needs. Further information can be found at http://www.spiraxsarco.com/global/us.
###