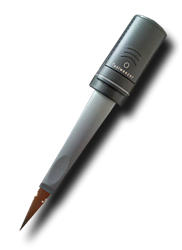 LED Test made easier for both discreet and SMD LEDs
Waterloo, Ontario (PRWEB) November 02, 2015
Increasing popularity and versatile applications of Light Emitting Diodes (LEDs) make them irreplaceable electronic component that needs to be tested. Therefore Canadian Siborg Systems Inc. is now offering a new product, the Smart LED Tweezers for sale alongside their LCR-Reader and Smart Tweezers family. The Smart LED Test Tweezers is a multi-function tester with LED, switch, fuse, circuitry test functions, as well as the ability to plug into an LCR-meter to be used as a Tweezer Multimeter. This is the first of its kind tweezer-meter with LED test capability allowing to test regular as well as Surface Mount LEDs.
Smart LED Tweezers combine a set of gold-plated phosphor bronze tweezers with a multi-tester in a portable device. The device saves time while testing LEDs, shorts, fuses, connections, PCB circuit conductive testing, etc. The device features a 12VDC output with variable current ratings of 5mA, 10mA and 20mA for LED testing. limited current value is crucial in order to ensure that LED is not damaged by excessive current. Determining polarity is also simplified with the arms of the device colour coded, red for anode (+) and grey for cathode (-).
The device has a very solid and durable design and consists of a 15cm long ABS body that only weighs 50 grams. It is suited for engineers and other professionals and personnel that need a portable device to take in-field, the Smart LED Test Tweezers easily fit into a bag or pocket.
When the tips of the Smart LED Tweezers are in contact with a component, a light in the indicator ring illuminates showing that current is flowing across the tweezer tips. In addition internal buzzer can be set to sound indicating active circuit.
On the top of the device there is a switch for the current ratings and buzzer, as well as a jack for the multimeter connector cable. When the cable connects the Smart LED Tweezers and a multimeter, the device can be used as a Digital Tweezer Multimeter. In this case the accuracy and functionality of the Smart LED Tweezers is defined by the connected multimeter. Using the tweezers as probes, the user may use the other hand for taking notes or other tasks.
The device comes with the 12V 23AE battery, a travel bag, tweezer cap and the multimeter connection cable, multimeter itself is not included.
Siborg believes that their customer base will appreciate the Smart LED Tweezers and it will be a good fit among the other test and measurement devices they currently offer.
All the latest news are available on the LCR-Reader and the Smart Tweezers Blog Blog.
About Siborg Systems Inc.
Established in 1994, Siborg is a source of engineering software and hardware for the electronics industry. Located in Waterloo, Ontario, Canada, it enjoys being a part of the local world-renowned high-tech community.
For more information please contact:
Michael Obrecht, Director
Siborg Systems Inc
24 Combermere Crescent.
Waterloo, Ontario
Canada
Tel: 519-888-9906
Fax: 519-725-9522
http://www.siborg.com
E-mail info (at) siborg (dot) com