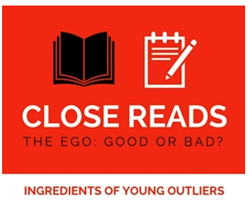 Our teachers are the leaders and shapers of the future, and we are delighted to help them impart fresh material on young minds that will encourage humility, kindness, calmness, integrity, and anti-bullying efforts as leadership qualities."
Scottsdale, Arizona (PRWEB) October 26, 2015
Outliers Publishing announced today that the close reading 7th-8th grade teacher curriculum for the book Ingredients of Young Outliers: Achieving Your Most Amazing Future, is being re-introduced at a complimentary rate by author Dr. John Shufeldt. The reading curriculum created for middle school educators utilizes student leadership material from the book for educational activities that aligns with the Common Core standards with close reading exercises and Bloom's Taxonomy structured questions. The curriculum follows core educational guidelines, and the plans are available for no cost online through the Outlier Series store on Teachers Pay Teachers.
"I am excited to provide engaging curriculum developed by an incredibly talented and experienced educator at no cost to teachers. Our teachers are the leaders and shapers of the future, and we are delighted to help them impart fresh material on young minds that will encourage humility, kindness, calmness, integrity, and anti-bullying efforts as leadership qualities. We are excited to make it even easier for teachers to focus on finding great material without the worry of emptying their own pockets. This is our way of saying thank you," said Dr. John Shufeldt.
The leadership curriculum has been listed on teacherspayteachers.com for the last year, couched with extra, less essential content at the minimum cost required for the page count. In order to comply with the online retailer's guidelines for complimentary content, Outliers Publishing decreased the page length, offering the most essential core content close reading material to teachers at no cost. Dr. John Shufeldt still plans to offer the rest of the bonus material, such as warm up questions and exit tickets, at a later date.
Dr. John Shufeldt and Outliers Publishing hired educational consultant Tiffany Panessa, originator of the curriculum, and teacher Maribeth Sublette, consulting partner, to recreate these shorter, more potent segments.
"When Author John Shufeldt came to me to find out how we could make the reading curriculum available to teachers at no cost, I was excited for the challenge to re-work the great material we already developed into shorter segments. As a teacher, many times our ideas are limited by time and cost. This way each teacher has the option to bite off sections of the chapter as their schedule allows, and budget is no longer a limiting factor," said Tiffany Panessa, curriculum developer and educational consultant.
Close reading curriculum for chapters one and two of Ingredients of Young Outliers are now available on TeachersPayTeachers.com. The remaining fourteen chapters will be released over the course of November and December, 2015.
For questions about the reading curriculum, visit http://www.ingredientsofoutliers.com/resources-for-teachers-common-core-curriculum. For media inquiries, contact apacion(at)ingrientsofoutliers.com.
About Ingredients of Young Outliers:
Ingredients of Young Outliers is the second book in the Outlier Series, and will be followed by at least 8 other books over the course of 2014-2015. The books are intended for students, college graduates and anyone interested in entering or furthering their career. The goal of the series is to offer books specific to sought after career fields with insider information and recommended channels for pursuing that career from experts in each respective profession.
The career fields featured in the Outlier Series will include but are not limited to: Medicine, Law, Sports, Design / Engineering, The Arts / Entertainment, Entrepreneurism / Business, Service to Country/ Service to Mankind, Writing / Journalism, and Travel / Leisure.
About Author John Shufeldt:
As well as being a practicing doctor and lawyer, Shufeldt is also a pilot (both plane and helicopter) and a business entrepreneur (and if pressed, he will reluctantly admit to being a 'budding' chef and Taekwondo black belt). Shufeldt received his BA from Drake University in 1982 and his MD from the University of Health Sciences/ The Chicago Medical School in 1986. He completed his Emergency Medicine Residency at Christ Hospital and Medical Center in 1989 where he spent his final year as Chief Resident. He received his MBA in 1995, and his Juris Doctorate in 2005, both from Arizona State University. He is admitted to the State Bar in Arizona, the Federal District Court and Supreme Court of the United States. Shufeldt is also an adjunct professor at the Sandra Day O'Connor College of Law where he teaches a clinic on Health Law Entrepreneurism. He serves on the Drake University Board of Trustees and the Sandra Day O'Connor College of Law Alumni Board
Go HERE for updates and to learn more about Ingredients of Young Outliers and The Outliers Series.