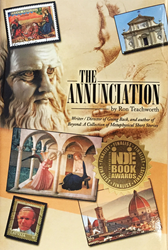 "Good novels move, entertain, and teach us something about ourselves and the world. Ron Teachworth's The Annunciation gives us all that in spades."- Kimberly Kafka, author
(PRWEB) October 25, 2015
The Annunciation is a love story that connects to an assassination plot on Pope John Paul II where religious students are studying frescos by Fra Angelico at the San Marco convent in Florence, Italy.
A Finalist in Religious Fiction, The Annunciation, has just won a national book award in competition with writers from the U.S. and Canada. The Next Generation Indie Book Awards 2015 awards winners were just recently announced in New York City, NY. The first novel by author Ron Teachworth, is a crafted story set in the mid-90's that tells a love story of two young people engaged in religious studies at San Marco Convent. The plot involves a visit by Pope John Paul II where an assassination is attempted on the Holy Father.
Reviews of the novel have demonstrated an attraction to the story by a large cross section of readers.
Amazon Reviews
"… a fast paced story of young men and women… immersed in the cultural and artistic glory of Florence.…especially enjoyed Teachworth's grasp of Florentine fresco painting and the origins of the Renaissance.… plot also involves a rather touching romance… you will enjoy this book." Charles Pompilius
"I was hooked from the beginning when reading The Annunciation by R. Teachworth…immersed in the beautiful art and architecture of the Renaissance…interesting characters, suspense, and surprise. A thoroughly enjoyably read." Dawnice Kerchaert,
"…a unique and different book worth reading and going back and reading again."
"I truly enjoyed the book… rich descriptions… carries you to Italy… a book of art study, the Catholic faith, a thriller… an excellent informative, exciting book to read.… interesting the way the author weaves the magic of the story and while doing so, gives you a little art history class… I loved and learned so much." Lynn Peters
"…an excellent read. Having been to Florence, the city came alive again in his story. Teachworth has a gift for writing visual narrative that creates rich pictures in my mind." Larry Butcher
"…engaging novel…takes the reader on a fresh, contemporary trek through art history, Catholic history and the cultural wonders of Florence. The pleasure of the story is in seeing… through the eyes of college students working on a summer art restoration fellowship… blend of mystery, danger, politics and romance make for a satisfying and memorable read. As a secular, avid reader, I highly recommend this book." Ruth Winter
"… a coming of age and historical novel that weaves histories of Roman Catholicism and Italian religious art...teenager facing life choices such as college, career and marriage might discuss the book's topics with family…Intrigue, romance and assassination play a role in cleverly laid out scenes. Susan Stewart
Mr. Teachworth's background is in visual art, film and television. He wrote and directed a feature film, Going Back, for Vestron Pictures. http://www.goingbackthemovie.com/
The Annunciation is Published by Westbow Press, A Division of Thomas Nelson & Vonderzan Info & Order: http://goo.gl/oydZQP Hardbound, Softbound, E-Book